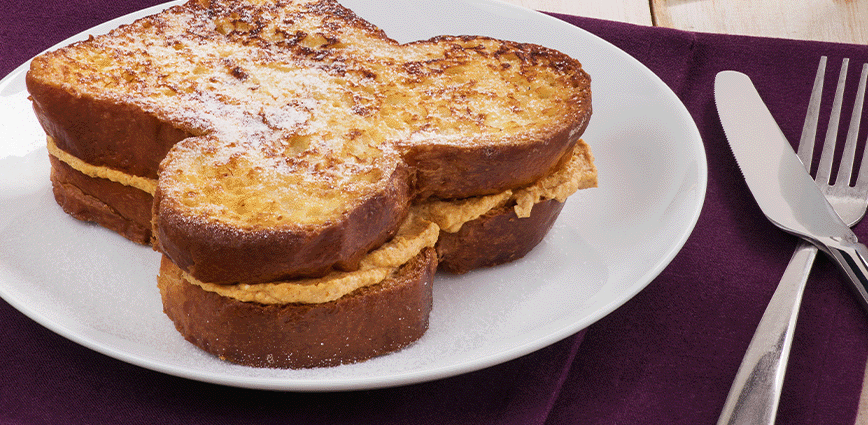 Stuffed Pumpkin Spice French Toast
Make Thanksgiving morning special with this easy yet impressive French toast. 
Prep Time: 10 minutes
Cook Time: 15 minutes
Yield: 4 servings
Ingredients:
2 eggs
1/2 cup milk
1/2 tsp Pyure Organic Liquid Stevia Extract
3/4 cup mascarpone cheese
3/4 cup pumpkin purée
2 tbsp Pyure Bakeable Stevia Blend
2 tsp pumpkin pie spicePinch salt
8 slices bread
Instructions:
Whisk together eggs, milk and Pyure Organic Liquid Stevia Extract. Set aside.
Mix together mascarpone, pumpkin purée, Pyure Bakeable Stevia Blend, pumpkin pie spice and salt until smooth.
Divide mascarpone filling among 4 slices of bread. Sandwich with remaining bread slices.
Dip sandwiches into egg mixture, turning to coat well.
On greased griddle or in greased skillet, cook sandwiches over medium heat for about 3 minutes per side or until crisp and golden brown.
Nutrition Facts
Per 1/4 recipe
Calories 380
Fat 17g
Cholesterol 150mg
Sodium 470mg
Carbohydrate 42g
Fiber 3g
Sugars 8g
Protein 14g