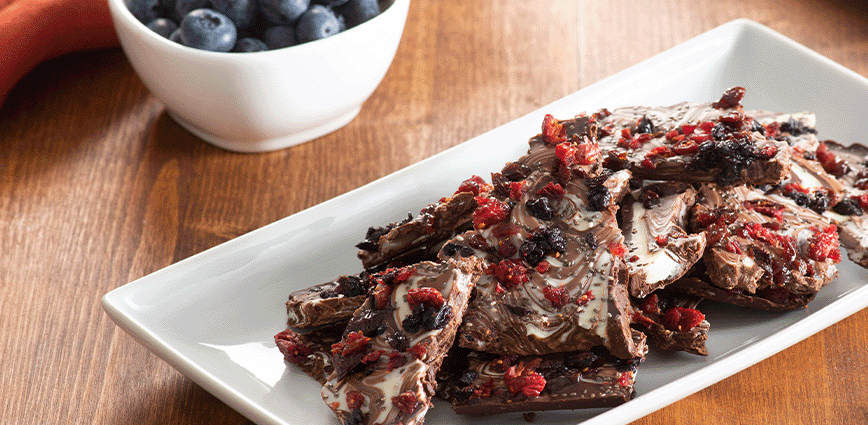 Berry Chocolate Marble Bark
Sweet indulgence! This chocolate bark is sure to be a crowd pleaser at your holiday party or a favorite for seasonal snacking.
Prep Time: 10 Minutes
Cook Time: 5 Minutes (+1 Hour Chill Time)
Yield: 16 Pieces
Ingredients:
7 oz unsweetened chocolate, chopped
8 Pyure Brands Sweetener Packets
2 tbsp unsalted butter, cubed
5 oz white chocolate, melted and cooled slightly
4 oz milk chocolate, melted and cooled slightly
1/3 cup dried blueberries
1/3 cup chopped dried cherries
1/3 cup dried cranberries
2 tbsp chia seeds
Pinch sea salt
Instructions:
Line 13- x 9-inch baking pan with enough parchment paper to overhang sides. In a heatproof bowl set over a larger saucepan of barely simmering water, melt unsweetened chocolate, Sweetener Packets and butter, stirring occasionally, until smooth. Remove from heat. Let cool slightly.
Pour chocolate mixture into prepared pan; spread evenly. Drizzle white chocolate, then milk chocolate, over top; using a toothpick, wooden skewer or butter knife, swirl chocolates together.
Sprinkle blueberries, cherries, cranberries, chia seeds and salt over top. Refrigerate for about 1 hour or until chocolate is set. Remove from pan and peel off parchment paper. Break bark into pieces. Store in airtight container for up to 1 week.
To melt chocolate in the microwave, place chocolate in microwave-safe bowl. Microwave on Medium power, stirring every 30 seconds, for 1 to 2 minutes or until smooth and melted.