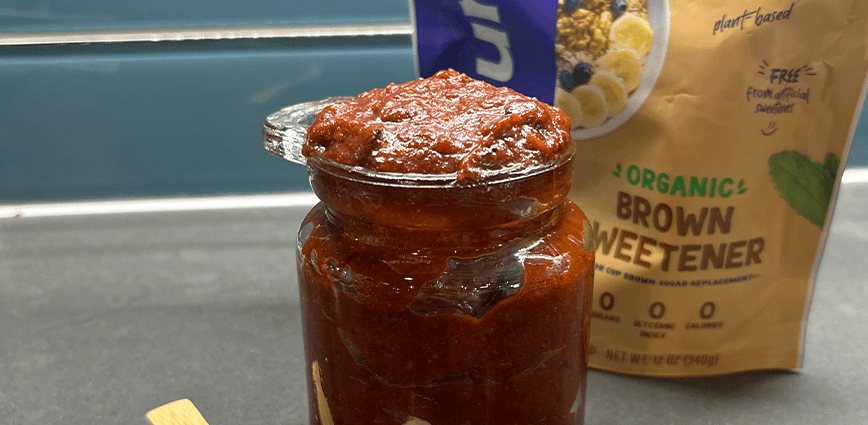 Slather this versatile BBQ sauce on anything hot off the grill, use it as a marinade for your favorite cut of meat, or even as a dipping sauce for veggies!
Prep Time: 5 minutes
Cook Time: 25 minutes
Yield: 2 cups
Ingredients:
2 tbsp butter
1 cup finely chopped onions
4 cloves garlic, minced
2 cups frozen pitted cherries
1/2 cup tomato paste
1/4 cup cider vinegar
1 tbsp smoked paprika
2 tsp mustard powder
1/2 tsp each salt and pepper
1/2 cup Pyure Brown Sweetener
Instructions:
Heat butter in saucepan set over medium heat; cook onions and garlic for about 5 minutes or until tender.
Add remaining ingredients and bring to boil. Reduce to simmer; cook, uncovered, for about 20 minutes or until thickened and cherries are tender.
Let cool; purée until smooth. Stir in Pyure Brown Sweetener.
Serve warm or let cool completely and refrigerate.
Tip: For a spicy kick, replace smoked paprika with chipotle chili powder.
Nutrition Facts
Per 2 Tbsp. (30 mL)
Calories 50
Fat 1.5g
Saturated Fat 1g
Cholesterol 5mg
Sodium 140mg
Carbohydrate 13g
Fiber 6g
Sugars 4g
Protein 1g