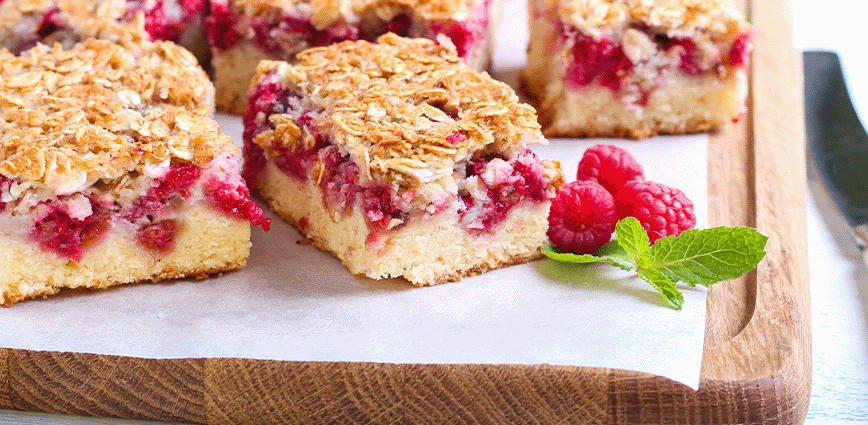 Raspberry Crumble Bars Recipe
The next time you're in the mood to do some baking, whip up a batch of these spectacularly easy Raspberry Crumble bars. Make a batch on the weekend and keep them handy for school lunches or quick after-school treats. Add a scoop of ice cream and you have a delicious dessert.
Prep Time
15 minutes
Cook Time
45 minutes
Yield
12 bars
Ingredients
8 oz unsalted grass-fed butter
¾ cup Pyure All-Purpose Bakeable Blend Stevia Sweetener
1 tsp vanilla extract
2 1/3 cup almond flour
½ tsp salt
12 ounces sugar-free raspberry jam, with or without seeds
2/3 cup granola without fruit
¼ cup sliced almonds
Instructions
1. Preheat oven to 350 degrees.
2. Blend the butter and Pyure All-Purpose Bakeable Blend on medium speed until just combined. Reduce the speed to low and add vanilla.
3. Sift flour and salt together, and with the mixer still on low, slowly add to the butter mixture, just until it comes together in a ball.
4. Turn the dough out onto a lightly floured board.
5. Gently press two-thirds of the dough into the bottom and about ¼ inch up the sides of a 9-inch square baking pan.
6. Spoon the jam onto the dough and spread, leaving a ¼ inch border. This makes the bars easier to get out of the pan.
7. Mix the remaining dough and granola lightly together, using your hands.
8. Break the dough into chunky pieces and spread over the jam layer, leaving some showing through.
9. Sprinkle the almonds on top.
10. Bake for 45 minutes, until crumb top is lightly browned.
11. Cool completely in the pan and cut into 12 bars. Store in the refrigerator.
Nutrition Facts
1 bar
Calories 240
Fat 21.8 g
Saturated Fat 10.5 g
Cholesterol 41 mg
Sodium 221 mg
Carbohydrates 20.79 g
Fiber 8.5 g
Sugars 11.8 g
Protein 3.6 g