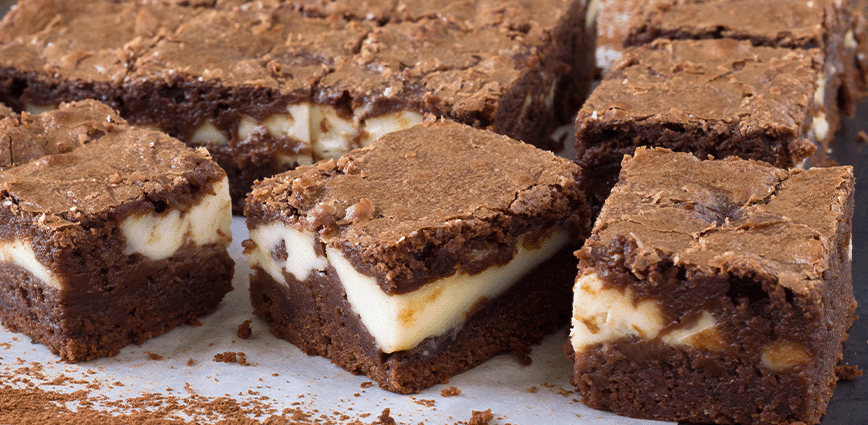 Cream Cheese Brownies
Our rich & fudgy Cream Cheese Brownie Recipe using stevia is the perfect keto-friendly snack that is easy to make & can satisfy any sweet craving.
Cream Cheese Brownie Recipe
Brownies are one of those sweet treats that double as nostalgic comfort food. Rich and chocolatey, and with a swirl of cream cheese, you get just the right amount of tang. Another great thing about brownies is that when you make them yourself, you can cut them into any size you want. That's Portion Control 101.
The desire for rich, chocolatey, tangy cream cheese brownies doesn't go away just because you are on a keto diet. Sometimes you seem to crave them even more. If you've got a feeling for a sweet treat that won't blow your macros, this cream cheese brownie recipe is just the ticket.
Prep Time
15 minutes
Cook Time
45 minutes
Yield
9 brownies
Ingredients
Brownie Layer
4 oz unsweetened chocolate chips
1/2 cup of butter (4 oz)
3 eggs
1 tsp vanilla extract
Cream Cheese Layer
8 oz cream cheese, softened
1 egg
1 tsp vanilla extract
Instructions
1. Grease an 8-inch square pan and set aside. Preheat oven to 350 degrees.
2. Melt chocolate and butter in a double boiler. Stir occasionally until the chocolate is melted and the ingredients are well-blended.
3. In a medium bowl, mix Pyure Bakeable blend, eggs, and vanilla extract.
4. Slowly stir the melted chocolate and butter mixture into the egg mixture. Continue stirring until smooth.
5. Pour the batter into prepared pan.
6. Next, prepare the cream cheese layer. Beat the softened cream cheese and the Pyure Powdered Confectioners stevia sweetener together until light and fluffy.
7. Add the egg and vanilla extract to the cream cheese mixture.
8. Pour the cream cheese mixture over the chocolate batter already in the pan. Using a knife or spatula gently swirl the cream cheese into the chocolate batter. Remember, you want the swirls to be obvious, so you only need to do one or two passes.
9. Cover the pan with aluminum foil and bake for 45 minutes.
10. Cool then cut into squares.
Nutrition
1 Cream Cheese Brownie
Calories:
292
Fat:
27.7 g
Saturated Fat:
16.8 g
Cholesterol:
128 mg
Sodium:
17 mg
Carbohydrates:
4.3 g
Fiber:
1.9 g
Sugars:
0.3 g
Protein:
6.2 g