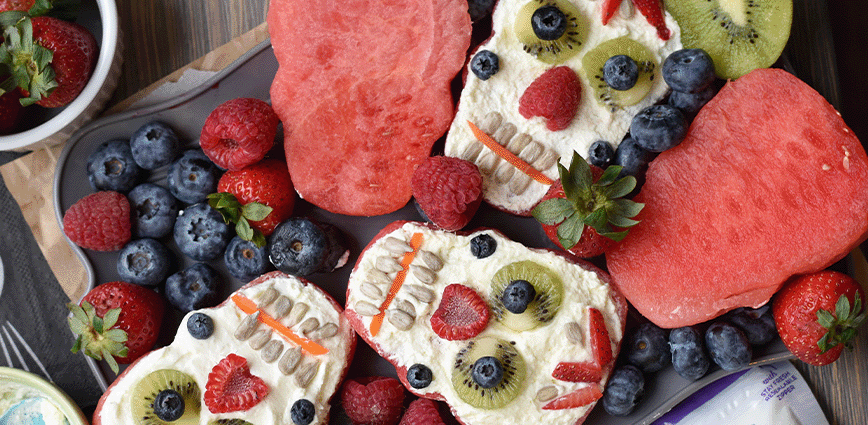 Pyure Watermelon Skulls (Free of Refined Sugar)
Made with watermelon, berries, and a homemade dairy free whipped cream, sugar never touches this recipe! You can find the original post along with detailed step-by-step photos at Fork & Beans.
Prep Time: 15 Minutes
Yield: 4 Watermelon Skulls
Ingredients:
1 can coconut cream, completely chilled
½ tsp. Pyure Stevia blend
1 tsp. vanilla extract
For the decorations:
4 kiwi slices, cut 2 small circles from each slice (for the eyes)
16 blueberries (for the eyes and cheekbone decor)
2 raspberries, cut in half (for the nose)
48 sunflower seeds (for the teeth and head decor)4 matchstick carrots (for the mouth)
1 strawberry, sliced (for the head decor)
Instructions:
Pat each skull with a paper towel to capture as much of the moisture as possible.
Empty the chilled coconut cream into a large bowl. Discard the liquid and keep only the thick cream.
Using an electric mixer, blend the cream over medium speed until it begins to fluff up (approx 1-2 min).
Add the Pyure stevia and vanilla and blend until just combined.
Coat the whipped cream over each watermelon skull.Top with the various fruit decorations to create a skull face.