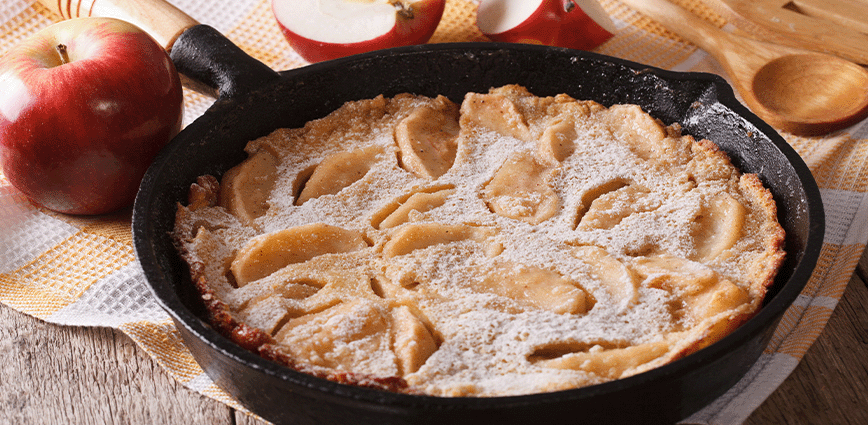 This breakfast favorite puffs as it bakes. Be sure to be waiting for it to come out of the oven as it deflates rather quickly. You want to be waiting for it, not the other way around.
Recipe Yield: 6 servings
Prep Time: 10 minutes
Cook Time: 30 minutes
Ingredients
1/4 cup butter
1/4 cup Pyure Organic All Purpose Stevia Blend
2 apples, peeled, cored and thinly sliced
3/4 tsp cinnamon, divided
4 eggs
1 cup milk
1 tsp vanilla extract
Pinch salt
1 tsp Pyure Organic All Purpose Liquid Stevia
1 cup all-purpose flour
Lemon wedges (optional)
Instructions
Preheat oven to 400°F.
Melt butter in heatproof or cast-iron skillet over medium heat.
Add stevia blend, apples and 1/2 tsp cinnamon.
Sauté for 8 to 10 minutes or until apples are tender and golden.
Transfer apples in skillet to oven and heat for 5 minutes (pancake will puff best in a hot pan).
Meanwhile, whisk together eggs, milk, vanilla, remaining cinnamon, salt and liquid stevia. Whisk in flour until combined.
Pour batter into hot pan and immediately return to oven.
Bake for 15 to 18 minutes or until pancake is puffed, golden and set in the center.
Serve warm with a lemon wedge if desired.
Tip: Substitute apples with plums or ripe firm pears.
Nutrition Facts
Per 1/6 recipe
Calories 250
Fat 12g
Cholesterol 150mg
Sodium 180mg
Carbohydrate 35g
Fiber 2g
Sugars 9g
Protein 8g