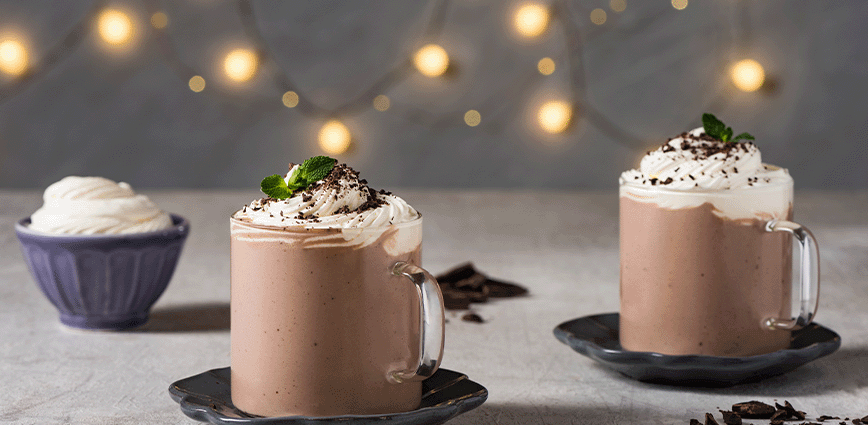 Peppermint Coconut Hot Chocolate
Peppermint Coconut Hot Chocolate
This festive hot chocolate is perfect for sipping during the holidays. Spike with vodka if desired.
Prep Time: 5 minutes
Cook Time: 5 minutes
Total Time: 10 minute
Serves: 2
Ingredients:
Instructions:
1. In small saucepan set over medium-low heat, whisk together Chocolate Drink Mix and coconut milk. Cook, stirring, for 3 to 5 minutes or until heated and steaming; stir in peppermint extract.
2. Divide between 2 mugs. Top with dollop of coconut cream. Garnish each serving with chocolate and sprig of mint.
Tips:
• Alternatively, garnish each serving with a light dusting of Chocolate Drink Mix.
• For whipped coconut cream, chill a can of coconut milk overnight in the fridge. Scoop out the hardened cream on top of the coconut milk into a chilled mixing bowl; beat with electric mixer on high speed for 2 to 3 minutes or until light and fluffy. Refrigerate until ready to use. Sweeten with Pyure Organic Powdered Confectioners Stevia Sweetener or All-Purpose Stevia Blend.
Nutrition Facts
Per 1/2 recipe
Calories 180
Fat 14g
Saturated Fat 11g
Cholesterol 0g
Sodium 80mg
Carbohydrate 16g
Fiber 3g
Sugars 3g
Erythritol 5g
Protein 4g