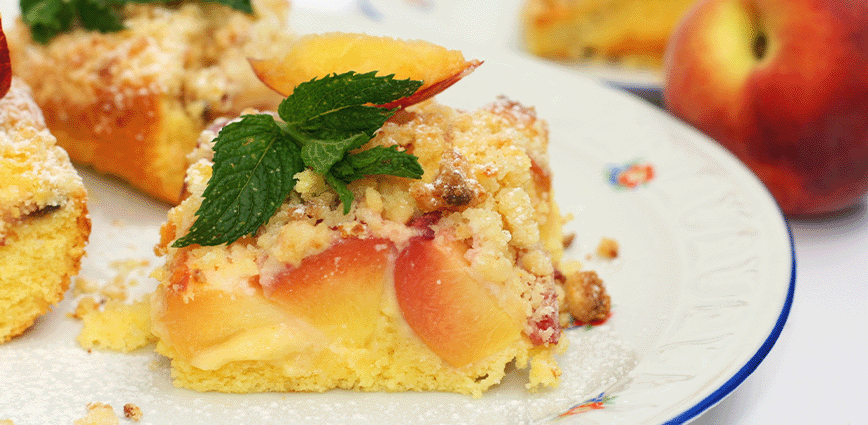 Keto-Friendly Peach Cobbler Cheesecake Recipe
Nothing says comfort food like peach cobbler, and when you take the classic recipe and put a little twist on it, you can make an even richer, more delectable peach cobbler cheesecake. It's just a few extra ingredients, and trust us, it's entirely worth it. It will be the star of the show at the next potluck and your family's new favorite dessert.
This peach cobbler cheesecake recipe is keto-friendly, gluten-free, grain-free, and sugar-free. But it tastes so good you won't believe it, and neither will your friends and family!
Prep Time
20 minutes
Cook Time
1 hour cook time plus 5 hours to chill
Yield
One 9-inch round cake
Ingredients
As with most cheesecakes that require time in the oven, you will need to prepare and bake the crust and filing separately. Prepare the crust first so it's ready when it comes time to fill.
Peach Cobbler Cheesecake Crust
1 cup of almond flour
1/2 cup of coconut flour
1/2 cup of "brown" low-carb sweetener, packed lightly
1/4 cup of Pyure Organic All-Purpose Stevia Sweetener
8 tablespoons butter, melted
1 teaspoon pure vanilla extract
2 teaspoons cinnamon or nutmeg
Peach Cobbler Cheesecake Filling
16 ounces of room-temperature cream cheese
3 room-temperature eggs
One medium peach, chopped (you can use more if you wish)
2 teaspoons pure vanilla extract
1/2 teaspoon cinnamon
Instructions:
Preheat your oven to 350 degrees. Line a circular 9-inch baking pan with parchment paper. Make the crust first and set aside.
To Prepare the Crust
Mix all dry ingredients in a large bowl: almond and coconut flours, Pyure Organic All-Purpose Stevia Sweetener, brown low-carb sweetener, and cinnamon.
Mix in the wet ingredients one at a time: melted butter and vanilla extract.
Press the crust mixture into your 9-inch pan, covering the bottom and slightly up the sides.
Bake for 10-12 minutes until slightly brown.
Set aside and allow to cool completely.
To Prepare the Filling
Chop your peach(es) into 1/4-inch chunks. Set aside.
Use a hand mixer to combine the cream cheese and Pyure Organic Confectioner's Stevia Sweetener.
Continue mixing while adding eggs, cinnamon, and pure vanilla extract. Beat for two minutes on medium/high speed.
Turn off the hand mixer and stir chopped peaches into the mixture.
Pour mixture into a baking pan on top of cooled crust.
Bake at 350 degrees for 30-40 minutes – the center will not be entirely set.
Allow cake to cool on the counter until it reaches room temperature, then transfer to the refrigerator for a minimum of 5 hours.
Add fresh peaches and sugar-free whipped cream on top if you wish!
Nutrition
Serving Size: 1 slice
Total Servings: 12 slices
Calories: 263
Fat: 24 grams
Protein: 7 grams
Carbohydrates: 6 grams