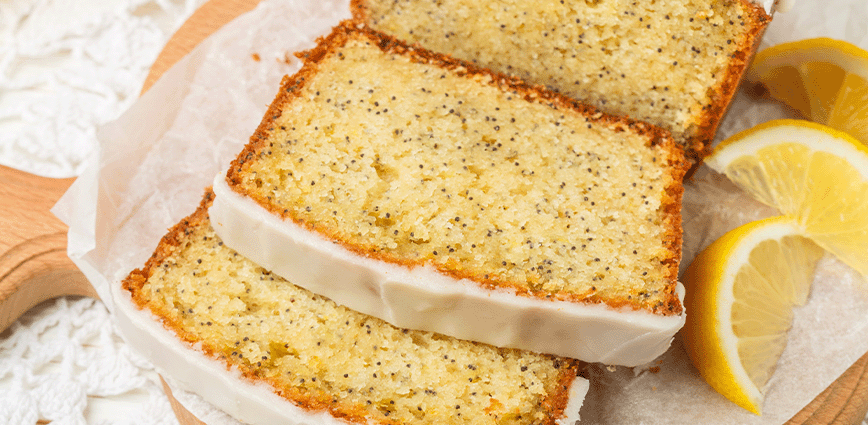 Keto-Friendly Lemon Poppy Seed Cake Recipe
When you need to whip up a low-carb, gluten-free, keto-friendly, sugar-free cake that's both refreshing and delicious, turn to the Pyure Organic Lemon Poppy Seed Cake. It's a spring and summertime favorite with a light burst of citrus that everyone loves. Perfect for picnics in the park, Sunday afternoon snacks, and more. Everyone will be asking for the recipe, and no one will guess it's made with stevia instead of sugar!
We recommend that you use a Bundt pan for optimal baking with this recipe.
Prep Time
25 minutes
Cook Time
50 minutes
Yield
One Bundt Cake, 12 slices
Ingredients
For this lemon poppy seed cake recipe, mix the cake ingredients first and make the glaze while the cake is in the oven.
Lemon Poppy Seed Cake Ingredients
3 cups almond flour
1/3 cup plain whey protein powder
3 tablespoons poppy seeds
2 teaspoons baking powder
1/2 teaspoon salt
1/2 cup softened butter
2/3 cup Pyure Organic Erythritol
3 large, room-temperature eggs
Fresh zest from one lemon
1/2 teaspoon pure lemon extract
1/2 teaspoon pure vanilla extract
2/3 cups water
Glaze Ingredients
Fresh-pressed juice from one lemon
Instructions
Preheat oven to 325 degrees and thoroughly grease a Bundt pan. Remember to wait until the lemon poppy seed cake is done baking to start the glaze.
Cake Instructions
Combine almond flour, whey protein powder, poppy seeds, baking powder, and salt. Set aside.
In a separate bowl, using a hand mixer, combine softened butter and Pyure Organic Erythritol.
Beat in the eggs, lemon zest, lemon extract, and vanilla extract.
Add half of the almond flour mixture into the bowl with the wet ingredients, then mix in the water.
Add the remaining half of almond flour mixture. Beat until just mixed.
Pour batter evenly into the bundt pan.
Bake 45 to 50 minutes, until the top is golden brown, and a toothpick comes out of the center clean.
Remove cake from the oven and to cool for 30 minutes.
After 30 minutes, flip the cake onto a wire cooling rack and allow to cool completely.
Once entirely cooled, top with the glaze.
Glaze Instructions
Whisk together the Pyure Organic Powdered Confectioner's Stevia Sweetener and lemon juice until there are no lumps.
Drizzle over the lemon poppy seed cake recipe.
Nutrition
Serving Size: 1 slice
Servings: 12
Calories: 273
Total Fat: 23 grams
Total Carbohydrate: 7.5 grams
Protein: 10 grams