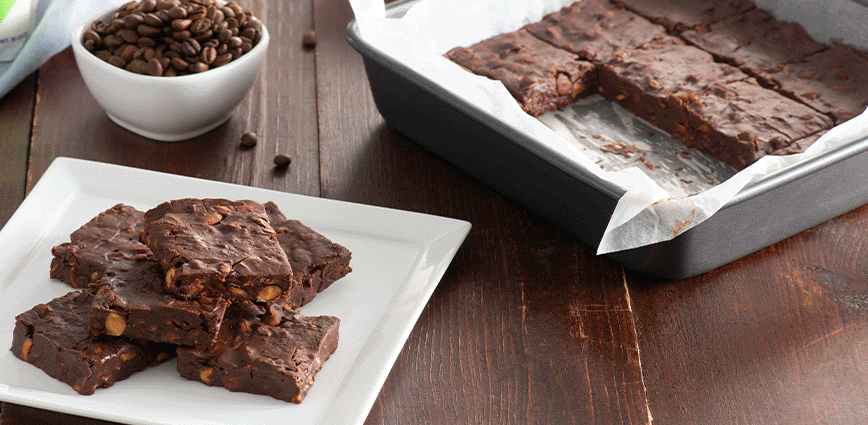 Prep Time: 5 minutes
Cook Time: 20 minutes + (2-4 hours chill time)
Yield: 16 pieces
Ingredients:
8 oz unsweetened chocolate, finely chopped
1/2 cup unsalted butter, cubed
1/4 tsp salt
2/3 cup brewed espresso
2/3 cup evaporated milk
1 cup Pyure All Purpose Blend
1 tsp vanilla extract
1 cup chopped toasted almonds
Instructions:
Line an 8-inch pan with parchment paper so it overhangs the ends; set aside. Add chocolate, butter, salt to heat safe bowl; set aside.
Combine espresso, evaporated milk and Pyure All Purpose Blend in medium saucepan set over medium heat until sweetener dissolves. Bring to a boil, stirring, until mixture reaches 238°F or soft ball stage, about 15-20 minutes.
Remove from heat. Stir in vanilla. Pour over chocolate mixture. Let stand for 1 to 2 minutes. Stir until melted. Let mixture stand and cool to 110°F. Beat the mixture vigorously with a wooden spoon until thickened. Stir in nuts.
Scrape into prepared pan; smooth top. Refrigerate for 2 to 4 hours or until completely cooled and set.
Remove from pan and peel off parchment. Cut into 16 pieces. Store in airtight container for up to 1 week.
Tip: If you don't have a thermometer. You can use the cold water test. Soft ball stage is when a drop of caramel is added to a small dish of cold water and it forms a soft pliable ball that flattens when pressed between your fingers.