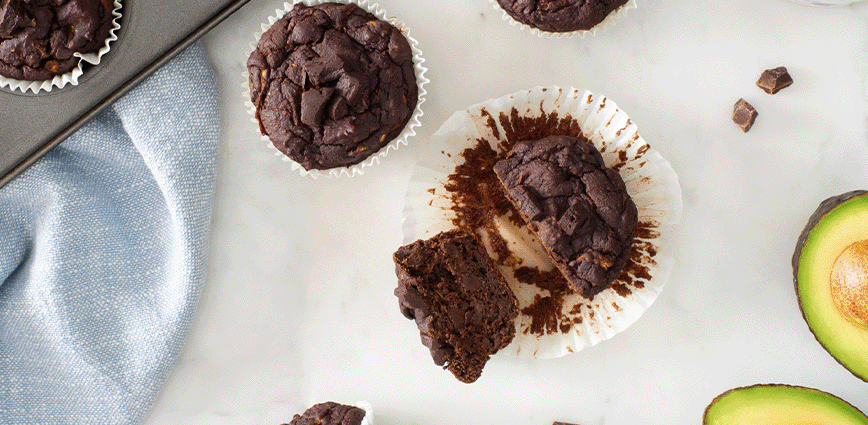 Double Chocolate Avocado Muffins
Prep Time: 15 minutes
Cook Time: 20 minutes
Yield: 12 muffins
Ingredients:
1 1/4 cups spelt flour
1/2 cup cocoa powder
1/4 cup almond flour
1/4 cup Pyure Brands All Purpose Blend
2 tsp baking powder
1/4 tsp baking soda
1/4 tsp sea salt
1 ripe avocado, halved, pitted, peeled and mashed (about 3/4 cup)
1 egg
3/4 cup almond milk
2 tbsp olive oil
1 tsp vanilla extract
1 cup grated zucchini
1/2 cup dark chocolate chunks
Instructions:
Preheat oven to 375˚F. Line 12 muffin cups with paper liners. In large bowl, whisk together spelt flour, cocoa powder, almond flour, All Purpose Blend, baking powder, baking soda, and sea salt; set aside.
In separate bowl, whisk together avocado, egg, almond milk, oil and vanilla until blended; stir into spelt flour mixture just until moistened. Fold in zucchini and chocolate chunks.
Divide batter evenly among prepared muffin cups. Bake for 18 to 20 minutes or until muffin tops spring back when pressed lightly. Let cool in pan on rack.
Tip: Fold chopped almonds or pecans into batter if desired.