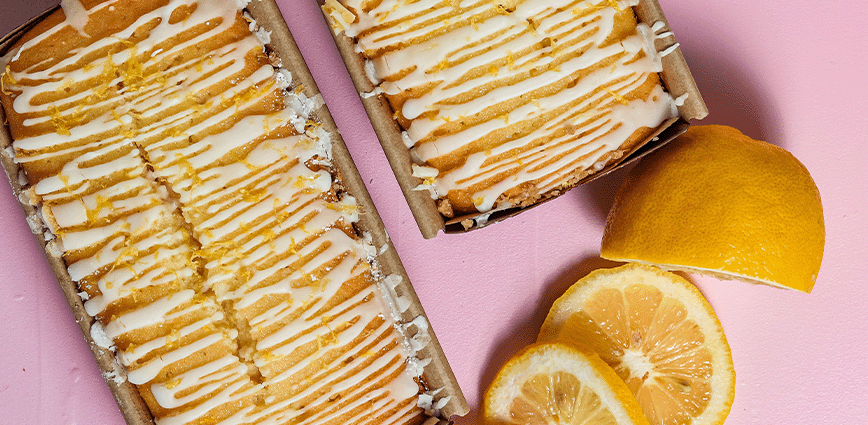 Lemon Pound Cake with Lemon Glaze
Fresh lemon zest brightens up this citrusy pound cake. The glaze makes the cake moist and irresistible.
Ingredients
1 cup unsalted butter
4 eggs
1 tsp vanilla
1 tbsp finely grated lemon zest
1 3/4 cups all-purpose flour
1 tsp baking powder
1/2 tsp baking soda
1/2 tsp salt
3 tbsp milk
Lemon Glaze:
Instructions:
Preheat oven to 325 °F. Line an 8 x 4- inch loaf pan with parchment paper and set aside.
Beat together butter and Pyure Organic All Purpose Stevia Blend until fluffy. Add eggs, one at a time, blending after each addition. Beat in vanilla and lemon zest.
Whisk together flour, baking powder, baking soda and salt. Stir flour mixture into butter mixture, alternating with milk.
Scrape batter into prepared pan. Bake for 50 to 55 minutes or until tester inserted into center comes out clean. Let stand 5 minutes. Remove cake from pan and let cool on rack.
Lemon Glaze: Add water to lemon juice to bring up to 1/2 cup. Combine in saucepan with Pyure Organic All Purpose Stevia Blend and Pyure Organic Liquid Stevia. Bring to a boil on medium and cook for 8 to 10 minutes or until slightly thickened and reduced by two-thirds.
Brush glaze over cooled cake.
Nutrition Facts
Per 1/8 recipe
Calories 350
Fat 26g
Cholesterol 155mg
Sodium 310mg
Carbohydrate 46g
Fiber 1g
Sugars 1g
Protein 6g