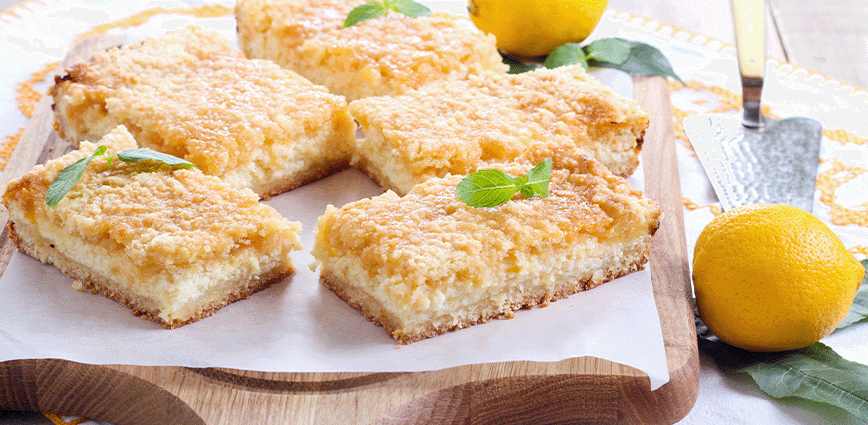 Lemon Cream Cheese Bars Recipe
These keto-friendly lemon cream cheese bars are a heavenly treat for lemon lovers. They have an irresistibly creamy lemon filling baked on a moist almond flour crust. These bars are grain-free and sugar-free, but oh-so-delicious. Keto-friendly desserts just don't get any better than this.
Ingredients
Crust
1 1/4 cups almond flour
1/4 tsp salt
1/4 cup butter, melted
Cheesecake Filling:
16 oz cream cheese, softened
1/2 cup Pyure Organic Powdered Confectioners Blend (or more if you prefer it sweeter)
2 tsp lemon zest (about 1 large lemon)
3 tbsp fresh lemon juice
2 tbsp heavy whipping cream
2 large eggs
Recipe Instructions
Crust
Preheat oven to 350 degrees. In a large bowl, whisk together almond flour, Pyure Bakeable Blend Sweetener, and salt. Stir in the melted butter until well combined.
Press flour mixture evenly into the bottom of an 8-inch square pan and bake for 10 minutes (it won't be cooked through). Set aside on a wire rack and let cool.
Reduce the oven temperature to 275 degrees.
Lemon Cream Cheese Filling
Beat cream cheese in a large bowl until smooth and creamy. Add Pyure Organic Powdered Confectioners Blend, then mix in lemon zest, lemon juice, and cream until there are no lumps.
Beat in eggs, one at a time, until just combined (do not over-beat, as this can cause cracks as the bars bake).
Spread the filling over cooled crust and bake another 35 to 45 minutes, or until filling is set and the center jiggles slightly when shaken.
Move to wire rack, let cool 30 minutes, then chill for at least 2 hours.
Garnish with more Pyure Organic Powdered Confectioner's Blend and lemon zest, if desired.
Making Ahead and Freezing
These lemon cream cheese bars are typically good for up to five days in the refrigerator. Simply press plastic wrap lightly on the surface after the bars have cooled and before you refrigerate them so the top won't dry out.
They also freeze well when wrapped in plastic wrap to avoid freezer burn. Simply place the unwrapped bars on a cookie sheet for a few hours to allow them to firm up. Then you can wrap them without damaging them.