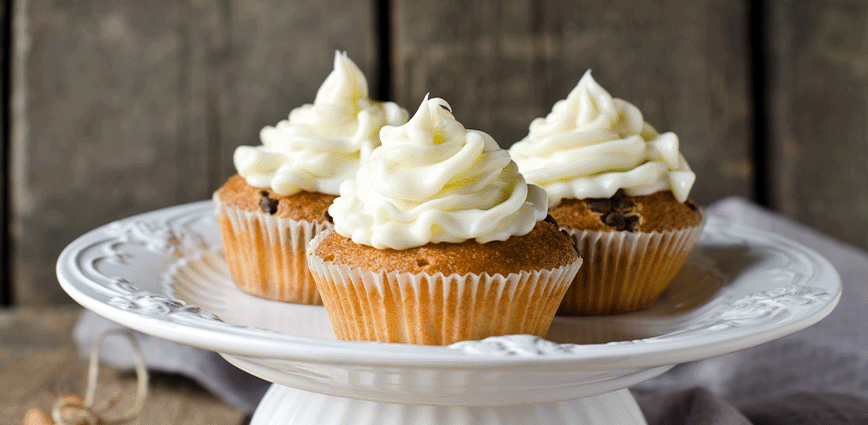 Carrot Muffins with Cream Cheese Frosting
These keto-friendly spiced carrot muffins are moist and tender – and topped with a delicious cream cheese frosting.
Prep Time: 15 Minutes
Cook Time: 20 Minutes
Yield: 12 Muffins
Ingredients:
Muffins:
2 1/4 cups almond flour
1/4 cup coconut flour
2 tsp baking powder
1/2 tsp baking soda
1/2 tsp ground cinnamon
1/4 tsp ground nutmeg
1/4 tsp salt
Pinch ground cloves
3 eggs
1/2 cup unsweetened almond milk
1/3 cup coconut oil, melted and cooled
1 tsp orange zest
1 tsp vanilla extract
1/2 cup packed shredded carrots
1/2 cup chopped pecans
Frosting:
8 oz plain brick-style cream cheese
2 tbsp unsalted butter, at room temperature
1/2 cup Pyure Organic Confectioners Stevia Blend
1 tsp vanilla extract
Instructions:
Muffins: Preheat oven to 350°F. Line 12 muffin cups with paper liners; set aside.
In a large bowl, whisk together almond flour, coconut flour, All-Purpose Bakeable Blend, baking powder, baking soda, cinnamon, nutmeg, salt, and cloves. In a separate bowl, whisk together eggs, almond milk, coconut oil, orange zest, and vanilla; whisk into the almond flour mixture. Fold in carrots and pecans. Spoon batter into prepared muffin cups.
Bake for 18 to 25 minutes or until golden brown and tester inserted into the center comes out clean. Let cool completely.
Frosting: Using an electric mixer, beat cream cheese until light and fluffy; beat in the butter. On low speed, beat in Confectioners Stevia Blend and vanilla until smooth.
Spoon frosting into a piping bag fitted with large star or round tip. Pipe frosting on top of muffins.
Tip: Decorate muffins with toasted pecans or garnish with toasted coconut if desired.
Nutrition Facts
Per 1 muffin
Calories 310
Fat 29g
Saturated Fat 12g
Cholesterol 75g
Sodium 290mg
Carbohydrate 9g
Fiber 4g
Sugars 2g
Protein 8g