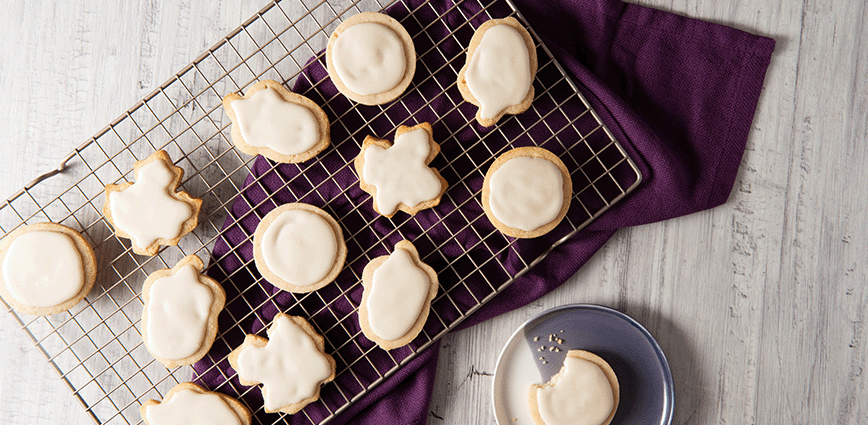 Keto Thanksgiving Sugar Cookies
Fun to make and fun to decorate, these holiday sugar-free "sugar" cookies from Pyure Organic are so delicious. Keto Friendly and Vegan.
Keto Thanksgiving Sugar Cookies
Fun to make and fun to decorate, these holiday sugar cookies are so delicious that they can be made all year long.
Prep Time: 20 minutes
Cook Time: 10 minutes
Total Time: 30 minutes (+50 minutes chilling time)
Makes: 24
Ingredients:
2 cups almond flour, plus more for dusting
1/3 cup coconut flour
1/4 tsp salt
1/2 cup coconut oil or vegan butter, at room temperature
1/2 cup vegan cream cheese, softened
2 tsp vanilla extract
1/4 tsp almond extract
Icing:
1/2 cup Pyure Organic Powdered Confectioners Stevia Sweetener
2 tbsp unsweetened almond milk
2 tbsp vegan cream cheese, softened
2 tsp vanilla extract
Instructions:
In bowl of electric stand mixer fitted with paddle attachment, mix together All-Purpose Stevia Blend, almond flour, coconut flour and salt on low speed until blended.
Increase speed to medium; gradually beat in coconut oil, 1 tbsp at a time, until dough looks crumbly. Add cream cheese, vanilla and almond extract; beat until dough starts to form large clumps, scraping down sides of bowl as needed.
Turn out dough onto work surface dusted with almond flour. Knead just until dough comes together into a ball.
Shape dough into ball; wrap in plastic wrap. Refrigerate for at least 30 minutes or up to 2 days.
Divide dough into 2 portions. Working with 1 portion of dough at a time, roll out between 2 sheets of parchment paper into 1/4-inch thickness. Transfer dough (with parchment paper) to baking sheet. Freeze for 10 minutes.
Remove top sheet of parchment paper; using 3-inch Thanksgiving-inspired cookie cutters (such as leaves, pumpkins, turkeys, etc.) cut out cookies, rerolling scraps as needed. Transfer to parchment paper-lined baking sheet, about 2 inches apart. Freeze cookies for 10 minutes to prevent spreading while baking.
Bake for 10 to 12 minutes or until cookies are pale golden at edges. Let cool completely in pan on rack.
Icing: Meanwhile, whisk together Powdered Confectioners Stevia Sweetener, almond milk, vegan cream cheese and vanilla until smooth. Decorate cookies with icing as desired. Let stand until icing is set.
Tip: Add a few drops of food coloring to icing for colorful cookies.
Nutrition Facts
Per 1 cookie
Calories 120
Fat 11g
Saturated Fat 5g
Cholesterol 0g
Sodium 55mg
Carbohydrate 10g
Fiber 2g
Sugars 1g
Erythritol 3g
Protein 2g
Net carbs per cookie = 5g