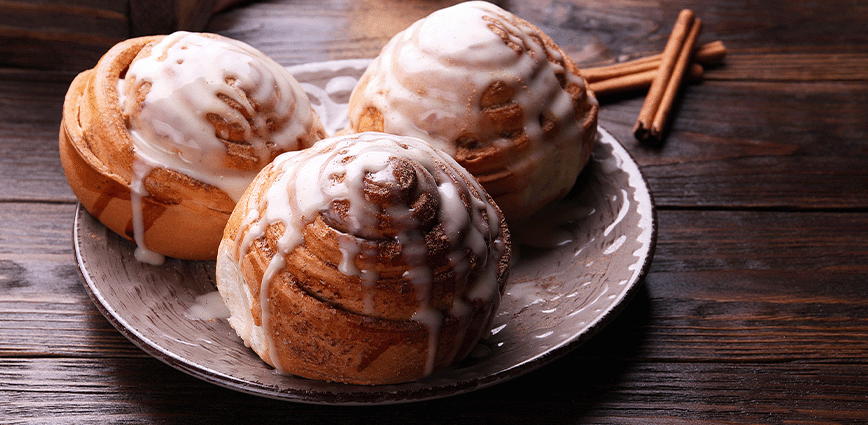 Keto Cinnamon Rolls
Soft & chewy Cinnamon Roll Recipe using stevia yields big, fluffy, & delicious cinnamon rolls that are keto-friendly. Simple to make & easy to enjoy.
Keto Cinnamon Rolls Recipe
Our keto cinnamon rolls are fluffy and delicious. They're the perfect addition to your morning cup of coffee. Soft and gooey so you can pull them apart or dunk them. There's no wrong way to eat them, and they're sure to please everyone as they're sugar-free, gluten-free, keto-friendly, and grain-free. Nothing is better than the comforting scent of cinnamon rolls in the morning. Make them on Saturday or Sunday for the family for a special breakfast treat.
Prepare these keto cinnamon rolls in three rounds: the buns, the filling, and the decadent vanilla frosting.
Prep Time
10 minutes
Cook Time
20 minutes
Yield
12 rolls
Ingredients
Keto Cinnamon Roll Recipe Dough Ingredients
1 1/2 cups shredded mozzarella cheese
3/4 cup extra fine almond flour
2 tablespoons cream cheese
1 large room-temperature egg
1/2 teaspoon baking powder
Keto Cinnamon Roll Recipe Filling Ingredients
Keto Cinnamon Roll Recipe Frosting Ingredients
2 tablespoons cream cheese
1 tablespoon plain, greek yogurt
Instructions
You will want to prepare the dough first, then the filling, then the frosting while the cinnamon rolls bake.
To Make the Dough
Preheat oven to 360 degrees. Set aside a non-stick cookie sheet or a round 9-inch non-stick baking pan.
Melt mozzarella cheese and cream cheese in a small pot over low heat. The cheese should be just melted. Do not bring the mixture to a boil.
Remove pot from the stove and stir in room-temperature egg.
Add almond flour and baking powder, stir to combine.
Roll the mixture into a large ball of dough (you can flour or oil your hands first to avoid sticking).
Divide the dough into six equal balls.
On a lightly floured surface, pinch dough down and roll into 15-inch rectangles
Flatten each roll, making each roll as thin as possible.
Set aside.
To Make the Filling
After you set the strips of dough aside, make the filling. Make sure the dough is not in a warm area or it may tear when you work with it next. Now, prepare the filling.
Boil water for the filling.
Stir in cinnamon and Pyure Organic Blend Stevia Sweetener.
Wait to cool just slightly, then pour evenly over the strips of dough.
To Assemble the Buns
After you pour the cinnamon filling over the buns, it's time to assemble them before you put them in the oven.
Roll each cinnamon-covered strip into a bun.
Cut each bun in half sideways.
Place each of the 12 buns onto your cookie sheet or into your round pan.
Bake for 20 minutes.
To Prepare the Frosting
Prepare the frosting while the buns are baking so you can coat them as soon as they are ready.
Mix cream cheese with Greek yogurt and Pyure Organic Liquid Stevia Sweetener with Vanilla Flavor. Set aside.
Remove buns from the oven, and while still warm, pour the frosting over them.
Nutrition
Serving Size: 1 bun
Total Servings: 12 buns
Calories: 94
Fat: 7 grams
Protein: 6 grams
Carbohydrates: 2 grams