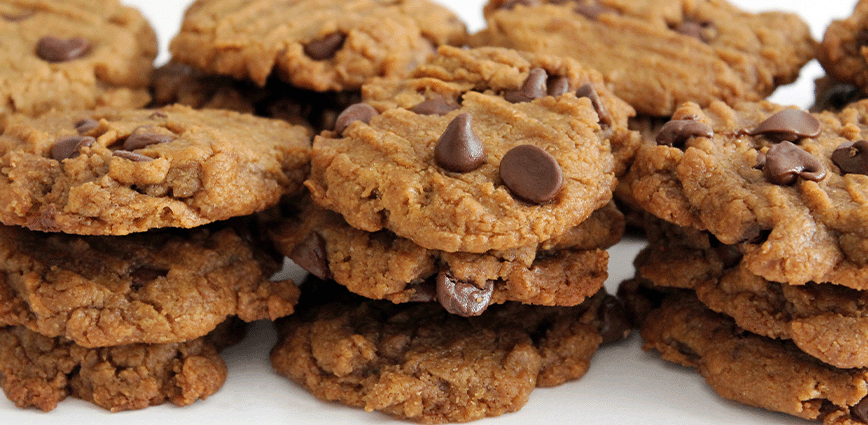 Peanut Butter Chocolate Chip Cookies
Peanut Butter Chocolate Chip Cookie Recipe
Everyone loves a good chocolate chip cookie. Gooey and delicious, they're milk's best friend. When you add peanut butter into the mix, they get even better. But it can be challenging to find a keto-friendly recipe for peanut butter chocolate chip cookies. This recipe is the answer you've been looking for, and the best part about it is they take just 15 minutes to make. That means that whenever you get a craving you can whip up a batch in no time.
Prep Time
5 minutes
Cook Time
10 minutes
Yield
15 cookies
Ingredients
It's important that you do not substitute any ingredients in this peanut butter chocolate chip cookie recipe. Different ingredients have different absorption rates and may affect the texture and consistency of the final cookie.
5 tablespoons all-natural, no-sugar-added peanut butter
1 tablespoon coconut oil, melted
1 large egg
1 teaspoon pure vanilla extract
1 cup blanched almond flour
3 tablespoons Pyure Organic Erythritol
1/4 cup no-sugar-added milk chocolate chips
1/2 teaspoon baking soda
1/4 teaspoon baking powder
Small pinch of salt
Instructions
Preheat oven to 325 degrees, place parchment paper on a cookie sheet and coat with cooking spray. Set cookie sheet aside.
Combine all liquid ingredients: peanut butter, melted coconut oil, egg, and pure vanilla extract. Mix well.
Add all dry ingredients to the wet mixture: almond flour, Pyure Organic Erythritol, baking soda, baking powder, and salt. Mix until a soft dough forms.
Add chocolate chips and mix until evenly distributed.
Create 12 even scoops of dough and place one inch apart on the cookie sheet.
Bake for 8 to 10 minutes until the edges are golden brown. The cookies will have a cake-like consistency.
Allow cookies to cool on the sheet for several minutes before transferring to a wire rack. Don't try to remove them from the baking sheet too soon or they will crumble.
Nutrition
Serving Size: 1 cookie
Servings: 12
Calories: 133
Total Fat: 10 grams
Total Carbohydrate: 4 grams
Protein: 4 grams