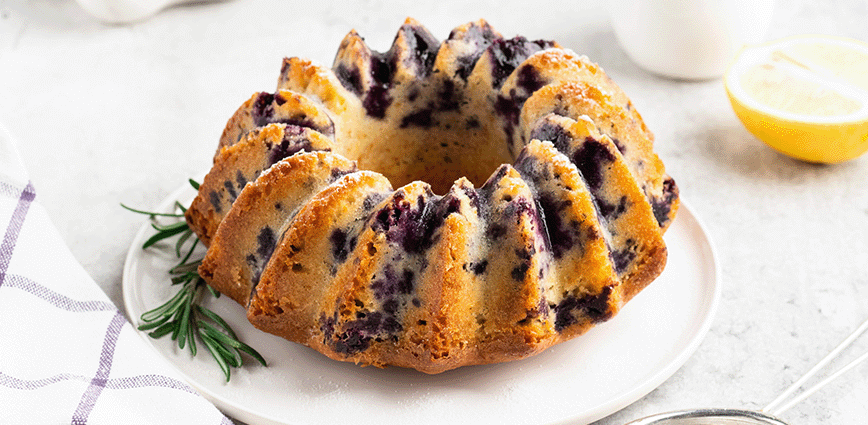 Lemon Blueberry Pound Cake
Lemon Blueberry Pound Cake Recipe
Blueberries and lemon are a classic summertime flavor combination. Pops of sweet, juicy blueberries are the perfect complement to the bright, tangy bursts of lemon.
This luscious lemon blueberry pound cake recipe is loaded with blueberries, and every bite has juicy pops of sweet blueberry and vibrant lemon flavor. It's not too tangy or too sweet, but just right. This recipe is bound to be a favorite, and it's super easy to make.
Not only is this a gorgeous-looking lemon blueberry pound cake, but it also has a lovely, moist texture. The flavor is out-of-this-world delicious, too. No one will ever guess that it's a low carb, keto-friendly, and gluten-free treat.
Ingredients
1 cup butter, softened
8 oz cream cheese
10 eggs
2 tsp lemon extract
2 tsp vanilla extract
1/2 cup coconut flour
2 1/4 cups almond flour
2 tsp baking powder
2 cups blueberries
2 tbsp flour
Instructions
Cream together the butter, cream cheese, and Pyure Bakeable Blend Stevia Sweetener.
Blend in the eggs and then the extracts.
In a separate bowl, combine the almond flour, coconut flour, and baking powder.
Slowly stir the flour mixture into the egg mixture.
Coat blueberries in coconut flour, then stir into batter.
Pour the batter into a greased tube or Bundt pan or ungreased silicone pan.
Bake at 325 degrees for 75 to 85 minutes or until a toothpick inserted into the center comes out clean.
Cool on a wire rack.
This lemon blueberry pound cake is perfectly satisfying on its own but even better with a generous dusting of Pyure Organic Powdered Confectioners blend.
If you have leftover lemon blueberry pound cake, and it is beginning to harden, grill it! Grilling the slices will add an irresistible smoky flavor and crispiness. Heat your grill, butter the pound cake slices on both sides, then lay them on the grill. Don't move the slices until they begin to smoke! Then flip them with a spatula and grill the other side. It will only take a minute or two for each side, and you'll achieve some lovely golden grill lines.
And since you already have your grill fired up, why not grill up some summer fruit and add them to your dessert? You can grill apricots, nectarines, peaches, plums, or pineapple. Remove pits from the stone fruits, butter each half, then grill 4 to 5 minutes per side.
This lemon blueberry pound cake recipe is spot on for this time of year when stores and farmers' markets are bursting with fresh, juicy blueberries. Simple, sweet, and oh-so-summery!