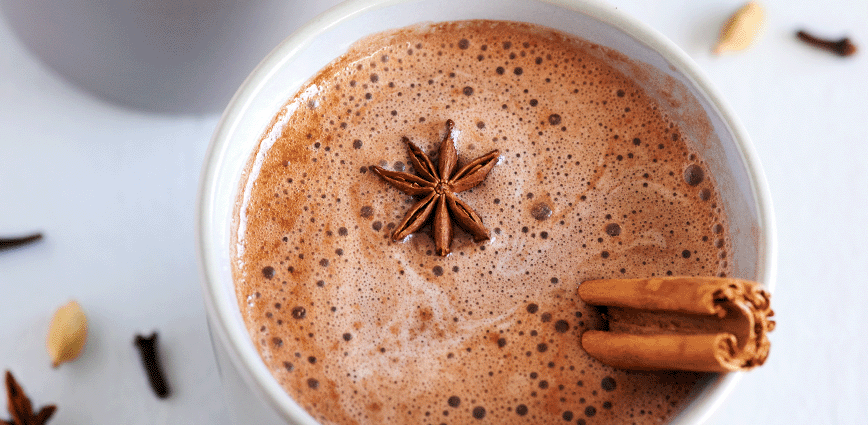 Sugar Free Chocolate Chai
Cocoa powder and Pyure are accented with cinnamon, ginger, cardamom, and even pepper to give this rich hot chocolate an authentic Indian flavor.
Prep Time: 5 minutes
Cook Time: 5 minutes
Yield: 4 Servings
Ingredients:
1/2 cup (125 mL) unsweetened cocoa powder
1/4 cup (60 mL) Pyure Organic All-Purpose Stevia Sweetener
2 tsp (10 mL) ground ginger
1 tsp (5 mL) ground cinnamon
1/4 tsp (1 mL) each ground nutmeg, cloves and cardamom
Pinch salt and freshly ground pepper
4 cups (1 L) almond milk or water
1/2 cup (125 mL) coconut whipped cream (optional)
1 oz (30 g) dark chocolate, shaved (optional)
Instructions:
Whisk together cocoa powder, sweetener, ginger, cinnamon, nutmeg, cloves, cardamom, salt and pepper. (Can be covered tightly and stored at room temperature for up to 1 month.)
To serve, warm almond milk until steaming or bring water to boil; whisk in cocoa mixture until well combined and smooth. Pour into four cups. Serve immediately.
Garnish with a dollop of coconut whipped cream and sprinkle of shaved chocolate (if using). Serve immediately.
TIP: Use vanilla almond milk or add 1/4 tsp (1 mL) vanilla extract just before serving.