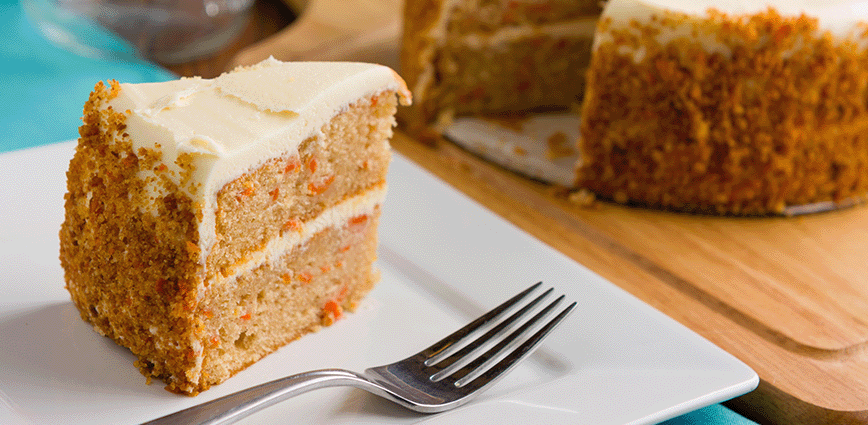 Coconut Carrot Cake Recipe
Looking for the ultimate keto-friendly, low carb, carrot and coconut cake recipe? You've come to the right place. Our coconut carrot cake is incredibly easy to make and blow-your-mind delicious. The best part? No one will ever guess that it's gluten-free and sugar-free.
Ingredients
3/4 cup butter, softened
1 tbsp blackstrap molasses (optional)
1 tsp vanilla extract
1/2 tsp coconut extract
4 large eggs, at room temperature
2 1/2 cups coconut flour
2 tsp baking powder
2 tsp cinnamon
1/2 tsp sea salt
2 cups grated carrots
1/2 cup unsweetened, shredded coconut
1 1/2 cups pecans, chopped and divided into 1 cup and 1/2 cup
Instructions
Preheat oven to 350 degrees.
Line two 9-inch round cake pans with parchment paper. (Use springform pans if you have them.) Grease the bottom and sides.
In a large bowl, cream together the butter and Pyure Bakeable Blend Stevia Sweetener until fluffy. Beat in the molasses (if using), vanilla extract, and coconut extract. Beat in the eggs, one at a time, and set aside.
In another bowl, mix together the coconut flour, baking powder, cinnamon, and sea salt. Stir the dry ingredients into the bowl with the wet ingredients.
Stir in the grated carrots and shredded coconut. Fold in 1 cup of the chopped pecans, reserving the remaining 1/2 cup.
Transfer the batter evenly among the two prepared baking pans. Bake for 30 to 35 minutes until the top is springy.
Let the cakes cool in the pans for 10 minutes, then transfer to wire racks to cool completely.
When the cake has cooled to room temperature, place the bottom layer on a plate or cake stand. Frost, then add the top layer and frost again. Top with the remaining chopped pecans.
Cream Cheese Frosting
8 oz cream cheese, softened and cut into cubes
4 tbsp butter, softened and cut into cubes
2 tsp vanilla extract
2 tbsp heavy cream (more if needed)
Cream Cheese Frosting Instructions
Use a hand mixer to beat together the cream cheese and butter until fluffy.
Beat in the Pyure Organic Powdered Confectioners Blend and vanilla until well incorporated.
Add cream and beat again until creamy. You can adjust the amount of cream to your desired consistency.
If you're not ready to serve your coconut carrot cake right away – and if you can resist – go ahead and refrigerate it. Gently cover it with plastic wrap or wax paper to avoid absorbing odors in the fridge. It's best within a day or two but will last up five days. Enjoy!