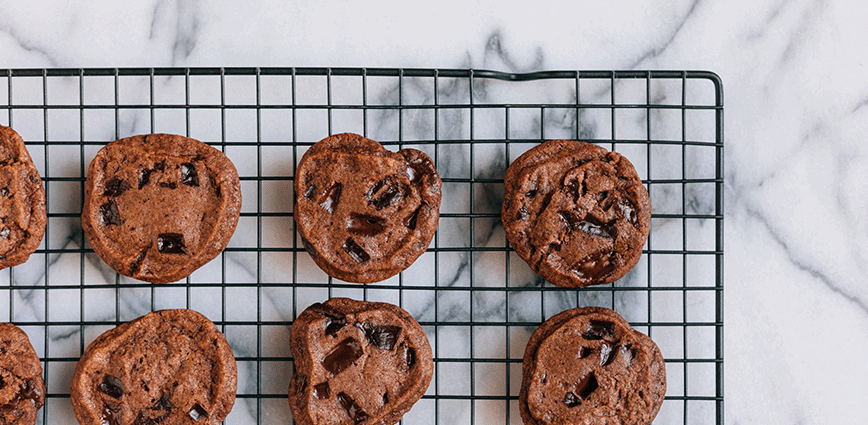 5 Best Low-Sugar Keto Desserts
Going keto doesn't have to mean giving up your favorite desserts! These sweet treats use stevia to let you indulge without guilt.
Most people starting a new diet assume that dessert is off-limits. Sugar and carbs aren't necessarily diet-friendly! But, with ingredients like stevia, almond flour, and monk fruit, you can have your cake and eat it, too. From low-sugar cookie recipes to keto cream cheese desserts, better-for-you sugar alternatives make it easy to enjoy your favorite sweet treats. 
Whether you're trying the sugar-free January challenge or following the keto diet, these recipes incorporate stevia and other sugar alternatives in place of processed sugar. 
Is stevia keto-safe?
Before we get into some of our no and low-sugar keto recipes, there's one question that many bakers wonder: is stevia keto safe? The short answer: yes! Stevia is an approved ingredient for those following the keto diet. 
The ketogenic diet dictates reducing your consumption of high-carb foods: starches, desserts, and processed foods. The goal is to reach "ketosis," a metabolic state that induces your body to break down fat stores rather than carbohydrates to produce energy. Followers of the keto diet avoid processed sugar, which can make it difficult to find keto-friendly dessert recipes that also taste good. 
Luckily, stevia is keto-approved. Stevia comes from a plant and is zero calories, zero carbohydrates, and zero sugars. When you use Pyure stevia products, you're also getting a sweetener from the best-tasting, organic, non-GMO stevia plant.
Lots of these recipes replace artificial sugar with stevia, but you can also use monk fruit or your other favorite sugar-alternative. Just make sure you're using the right conversion when you swap one sweetener for another! 
Now, without further ado, here are our favorite low-sugar keto desserts. 
Peanut Butter Keto Cream Cheese Dessert
Adapted from All Day I Dream About Food, this mousse-like peanut butter cream cheese dessert comes together in just five minutes. It's fluffy, low-carb, and super tasty!
Ingredients
½ cup heavy whipping cream (more if needed to thin the mixture)

4 oz cream cheese (softened)

1/4 cup natural peanut butter (no sugar added)

½ tsp vanilla extract
Instructions
In a medium bowl, whip the 1/2 cup of cream until it holds stiff peaks. Set aside. 

In another medium bowl, beat together the cream cheese and peanut butter until smooth and creamy. Add the sweetener and vanilla. If your peanut butter is unsalted, add a pinch of salt as well. Beat until smooth.

 If your mixture is overly thick, add about 2 tbsp heavy cream to lighten it and beat until combined.

Gently fold in the whipped cream until no streaks remain. Spoon or pipe into little dessert glasses.

Drizzle with a little low carb chocolate sauce, if desired. 
Low Sugar Cookie Recipe
There are tons of ways to add your own twist to this cookie recipe — originally from the blog Chocolate Covered Katie. Try it with coconut flour instead of almond flour, or add in chopped nuts with your chocolate chips! Pro-tip: if you don't have time to find all these ingredients, just use the keto-friendly and sugar-free Sugar-Free Chocolate Chip Cookie Mix by Pyure! 
Ingredients
1 cup finely ground almond flour

2-4 tbsp chocolate chips or sugar free chocolate chips

scant 1/4 tsp salt

1/8 tsp baking soda

2 tbsp coconut oil

1 tsp pure vanilla extract

2-3 tsp milk of choice, as needed
Instructions
Preheat oven to 325°F. 

Stir dry ingredients very well (so you don't end up biting into a clump of baking soda!). 

Add wet to form a dough. 

Shape into cookies – use a cookie scoop to first form balls and then shape into cookies. Place on a cookie tray, and bake on the center rack 10-12 minutes. 

Let cool an additional 10 minutes before handling, as they are very delicate at first but firm up completely once cool. 
Our keto cinnamon rolls are fluffy and delicious. They're the perfect addition to your morning cup of coffee — and they are sugar-free, gluten-free, keto-friendly, and grain-free. Nothing is better than the comforting scent of cinnamon rolls in the morning! 
Prepare these keto cinnamon rolls in three rounds: the buns, the filling, and the decadent vanilla frosting. Recipe yields 12 rolls. 
Ingredients
Keto Cinnamon Roll Recipe Dough Ingredients
1 1/2 cups shredded mozzarella cheese

3/4 cup extra fine almond flour

2 tablespoons cream cheese

1 large room-temperature egg

1/2 teaspoon baking powder
Keto Cinnamon Roll Recipe Filling Ingredients
Keto Cinnamon Roll Recipe Frosting Ingredients
2 tablespoons cream cheese

1 tablespoon plain, greek yogurt
Instructions (*You will want to prepare the dough first, then the filling, then the frosting while the cinnamon rolls bake.)
To Make the Dough
Preheat oven to 360°F. Set aside a non-stick cookie sheet or a round 9-inch non-stick baking pan.
Melt mozzarella cheese and cream cheese in a small pot over low heat. The cheese should be just melted. Do not bring the mixture to a boil.

Remove pot from the stove and stir in room-temperature egg.

Add almond flour and baking powder, stir to combine.

Roll the mixture into a large ball of dough (you can flour or oil your hands first to avoid sticking).

Divide the dough into six equal balls.

On a lightly floured surface, pinch dough down and roll into 15-inch rectangles

Flatten each roll, making each roll as thin as possible.

Set aside.
To Make the Filling
After you set the strips of dough aside, make the filling. Make sure the dough is not in a warm area or it may tear when you work with it next. Now, prepare the filling.
Boil water for the filling.

Stir in cinnamon and Pyure Organic All-Purpose Stevia Blend.

Wait to cool just slightly, then pour evenly over the strips of dough.
To Assemble the Buns
After you pour the cinnamon filling over the buns, it's time to assemble them before you put them in the oven.
Roll each cinnamon-covered strip into a bun.

Cut each bun in half sideways.

Place each of the 12 buns onto your cookie sheet or into your round pan.

Bake for 20 minutes.
To Prepare the Frosting
Prepare the frosting while the buns are baking so you can coat them as soon as they are ready.
Mix cream cheese with Greek yogurt and Pyure Organic Liquid Stevia Sweetener with Vanilla Flavor. Set aside.

Remove buns from the oven, and while still warm, pour the frosting over them.
Keto Mini Pecan Pies
This recipe from Keto Summit makes six mini pecan pies that are the perfect size for entertaining, for kids, or for snacking throughout the day — and they are totally guilt-free! Wholesome ingredients like flax meal and organic stevia make these the perfect indulgent dessert that won't break your diet. 
Ingredients
For the crust:
For the filling:
1/2 cup pecans, chopped

1/4 cup coconut oil or ghee

1 egg, whisked

1 teaspoon vanilla extract
Instructions
Preheat oven to 350°F.

Make the crust by mixing all the crust ingredients together. Press the dough into 6 mini muffin cups to form the crust.

Make the filling by mixing together all the filling ingredients in a bowl.

Pour into the 6 crusts.

Bake for 15 minutes until the pie crust is slightly golden.

Let cool then enjoy.
Keto Cinnamon Donut Holes
These donut holes from Keto Summit are baked, not fried, and the perfect size for snacking! Recipe makes 12 donut holes.
Ingredients
1 cup almond flour

1 egg, whisked

2 Tablespoons ghee, melted (but not hot)

1 teaspoon baking powder

2 Tablespoons cinnamon

1 teaspoon ginger powder
Instructions
Preheat oven to 350°F.

Mix together all the ingredients in a mixing bowl.

Form 12 holes from the dough.

Place on parchment paper-lined tray and bake for 15 minutes.
What are your go-to keto dessert recipes? Share them on Instagram and tag us – @pyureorganic.