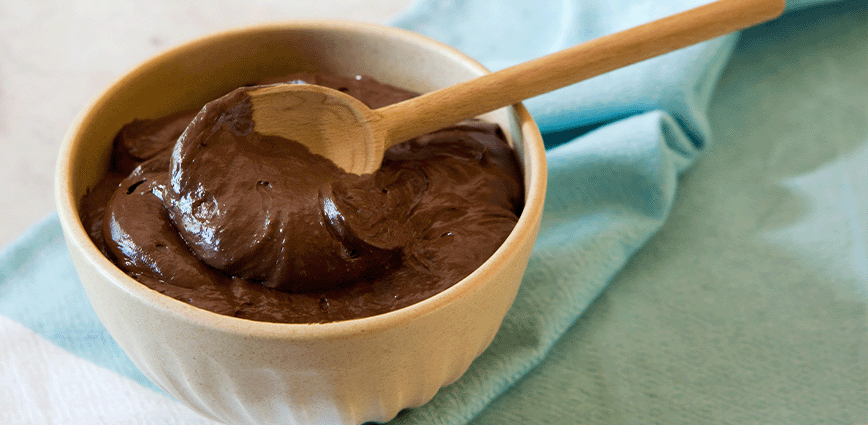 8 Better-For-You Ways to Eat More Chocolate
These better-for-you chocolate recipes use healthier ingredients like organic stevia, dark chocolate, and avocado to satisfy your chocolate cravings!
When a chocolate craving hits, the best thing to do is satisfy it sooner, rather than later! Luckily, there are plenty of ways to eat delicious chocolate desserts without feeling guilty. These low-sugar and keto-friendly chocolate recipes use wholesome ingredients like organic stevia, Pyure Organic Hazelnut Spread with Cocoa, and sneak in servings of vegetables like avocado and zucchini. Try one of these chocolate treats and let us know what you think!
Pyure Organic
Chocolate Keto Brownies
Looking for a quick and easy sugar-free, keto-friendly brownie fix? With just three extra ingredients, Pyure's Sugar-Free Chocolate Fudge Brownie Mix makes the most delicious, gooey and easiest chocolate keto brownies you could ever dream of. Add some sugar-free chocolate chips on top for an extra hit of chocolate. 
Ingredients
1 egg

3 Tbsp oil

1/3 cup water 
Instructions
Heat the oven to 375°F. 

Mix all the ingredients together in a large bowl. 

Pour mix into an 8x8 baking pan lined with greased parchment paper. 

Bake at 375°F for 24 - 28 minutes. 

Flourless Chocolate Cake with Stevia
Adapted from Bigger Bolder Baking, this flourless chocolate cake with stevia is decadent and fudgy with better-for-you ingredients, like coconut oil, Pyure Organic sweeteners, and sugar-free chocolate.
Ingredients
1/2 cup coconut oil, melted

1/2 cup butter, melted, and browned if desired

1 1/3 cups sugar-free chocolate, chopped

2 teaspoons vanilla extract

1/4 teaspoon salt, optional

1/4 teaspoon instant espresso powder, optional

6 eggs, room temperature

1 cup cocoa powder

2 tablespoons

Pyure Organic Powdered Confectioners Stevia Sweetener Blend

, or cocoa powder, for dusting
Instructions
Preheat the oven to 350°F then line a 9 inch spring form pan with parchment paper, set aside. 

In a large bowl combine the coconut oil and melted butter. Then, add the chocolate and melt it all in the microwave for 40 seconds. If you do not have a microwave you can do this over a bain marie. 

Once the chocolate is melted whisk until smooth and shiny.

Whisk in the vanilla, salt, espresso powder, and

Pyure Organic All-Purpose Stevia Sweetener Blend

at this point.

Add the eggs one at a time, making sure it is fully incorporated between each addition. 

Lastly, sift over the cocoa powder then fold it in with a spatula.

Transfer the batter to the prepared tin and bake for 35-40 minutes or until the top has formed a nice crust and slightly risen. 

Allow the cake to cool for about 10 minutes before releasing from the spring form pan.

Dust with

Pyure Organic Powdered Confectioners Stevia Sweetener Blend

or cocoa powder for garnish and slice.

Cover and store the cake in the fridge for up to 4 days.
This festive hot chocolate with stevia is perfect for sipping during the cold winter months! For a little extra chocolate, garnish each serving with a light dusting of Chocolate Drink Mix. Top with whipped coconut cream, which can be made by chilling a can of coconut milk overnight in the fridge. Then, scoop out the hardened cream on top of the coconut milk into a chilled mixing bowl; beat with an electric mixer on high speed for 2 to 3 minutes or until light and fluffy. Sweeten with Pyure Organic Powdered Confectioners Stevia Sweetener or All-Purpose Stevia Blend.
Serves: 2
Ingredients
Instructions
In a small saucepan set over medium-low heat, whisk together Chocolate Drink Mix and coconut milk. Cook, stirring, for 3 to 5 minutes or until heated and steaming; stir in peppermint extract.

Divide between 2 mugs. Top with a dollop of coconut cream. Garnish each serving with chocolate and sprig of mint.
Gluten-Free Chocolate Hazelnut Macarons
Up for a challenge? Macarons are a little more complicated to make, but worth the effort. And, if you're stuck at home (due to lockdowns or winter snow!) this is a great way to spend an afternoon. We adapted this tasty macaron recipe from Gluten Free Palate and Diligent Desserts!
Ingredients
For the macarons: 
1 cup powdered sugar

1/2 cup fine ground blanched almond flour

1/4 cup unsweetened cocoa powder

egg whites from 2 large eggs, room temperature

1/8 teaspoon cream of tartar

5 tablespoons granulated sugar
For the filling: 
1 stick unsalted butter, room temperature

1 pinch salt

2 Tbsp powdered sugar

2 Tbsp cocoa powder

50 grams cream cheese
Instructions
For the macarons
Sift powdered sugar, cocoa powder, and almond flour into a medium mixing bowl. Discard larger pieces left in the sifter.

In a large mixing bowl, beat egg whites and cream of tartar until they begin to foam.

Slowly add the 5 tablespoons granulated sugar to the eggs, beating on medium-high speed, until egg whites form stiff peaks. Approximately 2-3 minutes.

Gently fold the sifted powdered sugar, cocoa, almond flour mixture into the egg mixture with a rubber spatula.

Fill a pastry bag (or sturdy ziplock bag) with batter. Cut the tip off the bag.

Line two cookie sheets with parchment paper. Pipe batter into 1-inch circles, spaced at least 1 inch apart. Tap baking sheets on the counter a few times, to bring air bubbles to the surface.

Let macarons rest at room temperature for 1 hour, or until the tops are no longer glossy.

Preheat the oven to 350°F. Once oven is preheated, reduce oven temperature to 325°F.

Bake for 12 minutes. Remove from the oven and cool on the baking sheets for at least 10 minutes. Carefully transfer macarons to a cooling rack.
For the filling 
Whip the cream cheese in a bowl of a stand mixer on high for about 1 minute. Scrape it out of the bowl and save for later.

Using the same bowl to cream butter and salt for about 3-5 minutes or until it lightens in color. Stop the mixer and using a spatula, scrape the sides and the bottom of the bowl, as needed.

Add sifted powdered sugar and beat on medium high for about 3-5 minutes. Start with the slow speed, and as the powdered sugar incorporates, increase the speed to medium high. Stop the mixer in between the creaming process to scrape the sides and bottom of the bowl. Cream until the butter stiffens a little and increases in volume.

Add cocoa powder and cream cheese. Cream until all incorporated.

Lastly add Pyure Organic Hazelnut spread and cream just until incorporated.

Transfer to the piping bag with tip attached.

Start filling your macarons! 
Get ready for a creamy, rich, satisfying stevia chocolate mousse that you can whip up right at home in no time! Once you try this keto chocolate mousse recipe, you'll never crave a restaurant-made dessert again. What's truly unbelievable is that you can make this decadent dessert in under three minutes. There are just four ingredients, and there's a good chance you already have them in your kitchen. This stevia chocolate mousse is best if you serve it as soon as you whip it up. If you cannot serve the mousse right away, place in serving containers and refrigerate until ready. It is essential that the dessert be kept cold.
Ingredients
1 cup heavy whipping cream

2 tablespoons cocoa powder, unsweetened

3 packets

Pyure Organic Stevia Sweetener

(add more to taste)

1 teaspoon pure vanilla extract
Instructions
Place all ingredients in a large mixing bowl.

Using an electric hand mixer, beat on medium speed for three minutes, until all ingredients are well-mixed and mousse forms stiff peaks.

Spoon mousse into four even portions.

Top with sugar-free whipped cream and sprinkle with a dash of unsweetened cocoa powder.

Add fresh raspberries or strawberries if desired.
Keto Oreo Cupcakes from
@OhMyKeto
Nicole Downs, the chef behind Instagram account @OhMyKeto, tagged us in this amazing, keto-friendly Oreo cupcake recipe! Try it for yourself and show us your better-for-you chocolate cupcake creations. 
Ingredients
For the cupcakes
¹/³ cup unsalted butter, softened

3 large eggs

1/3 cup black cocoa powder

¼ cup full-fat sour cream

1 teaspoon vanilla extract

1¼ cups blanched almond flour

1 teaspoon baking powder

1/4 teaspoon espresso powder

¼ teaspoon fine sea salt
For the frosting
4 tablespoons unsalted butter, softened

4 ounces cream cheese, softened

½ teaspoon pure vanilla extract

Pinch of fine sea salt

1/2 batch

Oreo Cookie Crumbs
Instructions
Preheat the oven to 325°F. Whisk together the butter and sweetener until smooth and creamy. 

Add the eggs, sour cream, and vanilla extract and whisk until well combined. 

Stir in almond flour, black cocoa powder, baking powder, espresso powder and salt until well mixed. 

Fill each lined muffin well with 1/3 cup of batter and bake for 15 minutes, or until a toothpick inserted in the middle of a cupcake comes out clean.

While baking, whip together the butter, cream cheese, sweetener, vanilla, and salt until light and fluffy. 

Stir in 1/2 of the

Oreo Cookie Crumbs

(1/4 of the batch) until combined. Remove the cupcakes from the oven and let cool completely before frosting. After frosting, sprinkle with remaining

Oreo Cookie Crumbs

.
Chocolate Pudding with Stevia
Adapted from My Montana Kitchen, this chocolate pudding with stevia recipe is a crowd-pleaser for kids and adults. And, it comes together in just a few easy steps. 
Ingredients
1 Can Coconut Milk

1/4 Cup Cocoa Powder

1 Teaspoon Vanilla Extract

1/4 Cup Water

1 3/4 Teaspoon Gelatin
Instructions
Combine canned coconut milk, cocoa powder, Pyure, and vanilla in a medium saucepan.

Heat over medium heat, until warm and all ingredients are combined. (Whisk well with a whisk to prevent clumps.)

Remove from heat.

Sprinkle 1 3/4 teaspoon of gelatin over 1/4 cup cool water and let sit for about 1 minute. Stir, then add to pudding mixture and mix well.

Pour pudding into a 4 small serving ramekins.

Place plastic wrap (Saran wrap) on top of each pudding, (touching the pudding), to prevent any "skin" from forming on top.

Place in the refrigerator to cool and set.
Chocolate for breakfast?! Yes please! These muffins have avocado, zucchini, and Pyure Organic All-Purpose Stevia Sweetener Blend to start the day right. 
Ingredients
1 1/4 cups spelt flour

1/2 cup cocoa powder

1/4 cup almond flour

2 tsp baking powder

1/4 tsp baking soda

1/4 tsp sea salt

1 ripe avocado, halved, pitted, peeled and mashed (about 3/4 cup)

1 egg

3/4 cup almond milk

2 tbsp olive oil

1 tsp vanilla extract

1 cup grated zucchini

1/2 cup dark chocolate chunks
Instructions
Preheat oven to 375˚F. Line 12 muffin cups with paper liners. In large bowl, whisk together spelt flour, cocoa powder, almond flour, All Purpose Blend, baking powder, baking soda, and sea salt; set aside.

In a separate bowl, whisk together avocado, egg, almond milk, oil and vanilla until blended; stir into spelt flour mixture just until moistened. Fold in zucchini and chocolate chunks.

Divide batter evenly among prepared muffin cups. Bake for 18 to 20 minutes or until muffin tops spring back when pressed lightly. Let cool in pan on rack.

Tip: Fold chopped almonds or pecans into batter if desired.
For more chocolate delights, check out our library of recipes. Share pictures of your favorite chocolatey treats with us on Instagram, @PyureOrganic! Happy baking!