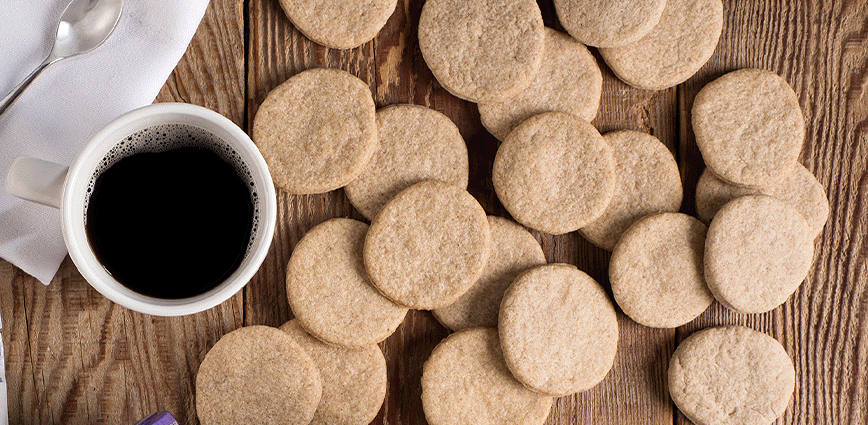 Warm spices punch the flavor of basic cookie dough making these cookies perfect for the holidays.
Prep Time: 5 minutes
Cook Time: 15 minutes
Yield: 24 cookies
Ingredients:
1/2 cup unsalted butter, softened
1 egg
1 tsp vanilla extract
1 1/4 cups all-purpose flour
1/2 tsp cinnamon
1/4 tsp each nutmeg and allspice
1/2 tsp baking powder
1/4 tsp salt
Instructions:
Beat butter with Pyure Organic All Purpose Stevia Blend until light and fluffy.
Beat in egg until well blended. Beat in vanilla.
Whisk flour, cinnamon, baking powder, nutmeg, allspice and salt together.
Stir into butter mixture in two additions.
Wrap dough in plastic wrap and refrigerate for 30 minutes.
Roll on lightly floured surface or between sheets of waxed paper to 1/4-inch thick.
Using desired cookie cutter, cut out shapes.
Preheat oven to 350°F. Place cookies 2-inches apart on parchment paper lined baking sheets. Bake for 10 to 12 minutes or until golden. Let cool on racks.
Tip: To soften cold butter, cut the sticks lengthwise into slices and arrange them in a single layer on a plate. Leave at room temperature for 15 minutes.
Nutrition Facts
Per 1 cookie
Calories 60
Fat 4g
Cholesterol 20mg
Sodium 35mg
Carbohydrate 7g
Fiber 0g
Sugars 0g
Protein 1g