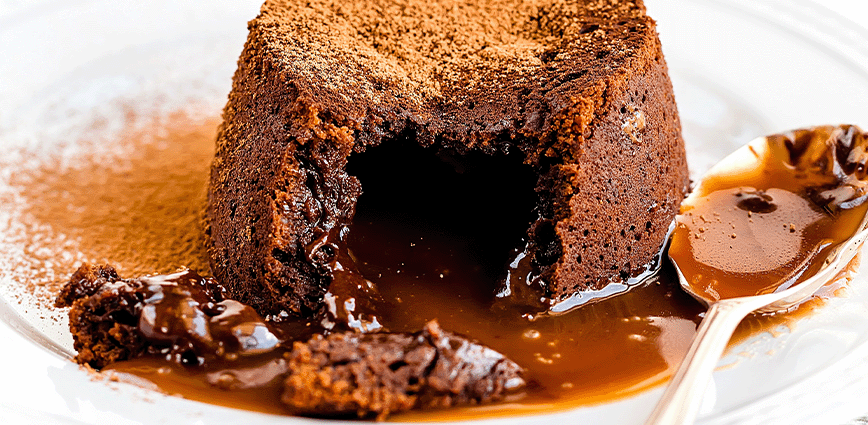 What can be more irresistible than a molten chocolate cake, warm from the oven?
Prep Time: 5 minutes
Cook Time: 20 minutes
Yield: 4 servings
Ingredients:
4 oz good quality unsweetened chocolate, finely chopped
1/2 cup unsalted butter, cubed (approx.).
2 eggs
2 egg yolks
Pinch salt
2 tbsp all-purpose flour
1/2 cup 35% whipping cream
Instructions:
Preheat oven to 400°F. Lightly butter four, 4-oz oven-proof ramekins. Place ramekins on rimmed baking sheet. Set aside.
In heatproof bowl over simmering water, melt chocolate with butter. Let cool slightly.
In the bowl of an electric mixer, whisk eggs, egg yolks with Pyure Organic All Purpose Stevia Blend and salt until pale and thickened.
With the mixer on low speed, gradually add chocolate mixture until well combined.
Evenly spoon chocolate mixture into prepared ramekins.
Bake for 8 to 10 minutes or until cakes have puffed and formed a light crust. Cakes will jiggle slightly when shaken. (Cakes should still be soft in center to retain soft flowing center)
Meanwhile, whip whipping cream in bowl until soft peaks form. Add 1 tsp Pyure Organic All Purpose Stevia Blend; continue whipping for 1 minute longer.
Run knife around edge of cakes and invert onto serving plate. Serve with dollop of whipped cream.
TIP: Make cake batter in ramekins ahead of time and store, covered, in refrigerator. Bring to room temperature before baking.
Nutrition Facts
Per 1 cake
Calories 530
Fat 54g
Cholesterol 285mg
Sodium 130mg
Carbohydrate 26g
Fiber 5g
Sugars 0g
Protein 9g