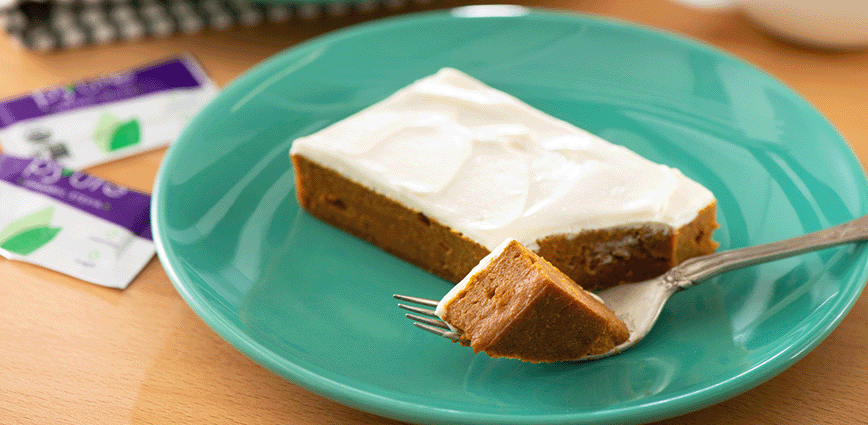 With fall in full swing, we are here to bring you a delicious recipe that will satisfy your pumpkin spice craving the healthy way! This Pumpkin Spice Bar Recipe was shared with us by Holistic Foodie Mariah. These pumpkin spice bars are a guilt-free way for you to indulge!
Prep Time: 15 minutes
Cook Time: 30 minutes
Yield: 16 bars
Ingredients:
1 cup whole wheat flour
5 packets of Pyure Brands Stevia
¼ tsp baking soda
2 tsp cinnamon
½ tsp baking powder
¼ tsp pumpkin pie spice
¼ tsp salt
3 tsp organic coconut sugar (optional)
¼ cup unsweetened shredded coconut (optional)
1 15oz can of pure pumpkin puree
3 tsp grapeseed oil
2 eggs at room temperature (or egg substitute equivalent)
4 tsp coconut milk
1 tsp pure vanilla
Ingredients for the Frosting
1 8oz cream cheese at room temperature
A splash of pure vanilla
¼ tsp pumpkin pie spice
2 packets of Pyure Brands Stevia
2 tsp coconut milk
Instructions:
Preheat oven to 350 degrees.
Grease a 20×20 pan.
Sift all dry ingredients together except for shredded coconut and coconut sugar (optional).
Add the batter to your greased baking pan and bake for 15-20 minutes. Let cool in the pan for 10 minutes. Once they have cooled completely, spread the cream cheese frosting on top.
To make the cream cheese frosting, simply combine all of the ingredients and mix using an electric mixer until smooth. Refrigerate until you are ready to use the frosting.
Once the pumpkin spice bars are prepared, they should be stored in the refrigerator until you are ready to enjoy!