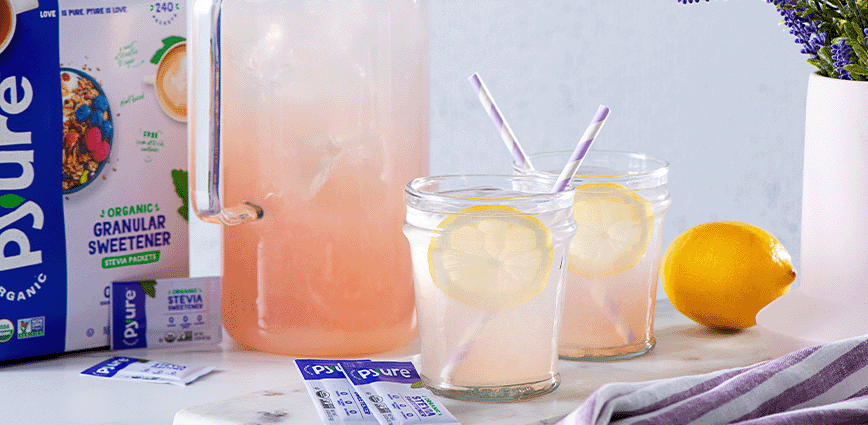 Floral lavender perfumes this elegant and refreshing lemonade, sweetened to taste with Pyure Stevia Packets.
Prep Time: 25 minutes
Cook Time: 0 minutes
Total Time: 25 minutes (+ 1 hour 30 minutes standing time)
Serves: 4  
Ingredients:   3 tbsp fresh or dried culinary lavender
2 cups freshly squeezed lemon juice
12 to 16 Pyure Stevia Packets
Ice cubes
Fresh lavender sprigs
Lemon wedges  
Instructions:
In heatproof bowl, combine lavender and 2 cups boiling water; steep for at least 30 minutes. Strain into pitcher. Refrigerate for 1 to 2 hours or until chilled.
Stir lemon juice and 3 cups cold water into pitcher. Divide among glasses; sweeten to taste with stevia packets. Fill glasses with ice; garnish with lavender sprigs and lemon wedges.
Tips:
Substitute fresh mint, basil or rose petals for lavender.
Serve a crowd or keep a pitcher in the fridge for whenever you need a refreshing treat
Nutrition Facts Per 1 beverage
Calories 35
Fat 0g
Saturated Fat 0g
Cholesterol 0g
Sodium 3mg
Carbohydrate 10g
Fiber 1g
Sugars 3g
Protein 1g  
Net carbs per beverage = 9g