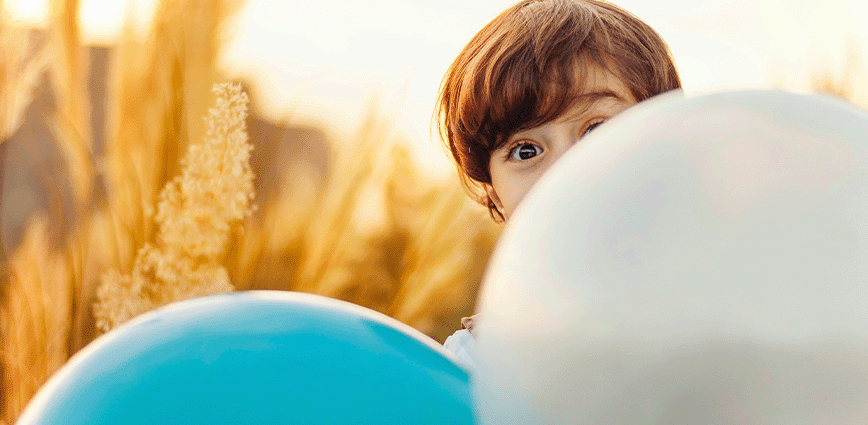 Sweet Tips for Better Kids Treats
Is stevia safe for kids? Absolutely, if you get the right brand. Here's how to swap stevia into recipes for your kid's favorite treats.
Back to school is here, and while this year's school year might look a little different, one thing hasn't changed: snacks. Whether your kids are heading to the classroom or clocking off from lessons from home, they're going to want something to eat at the end of the day. 
And, kids love sugar. Unfortunately, sugar doesn't always love them back. Sugar is a multi-billion-dollar industry, but it's also not the best ingredient for humans. Sugar intake contributes to diabetes, obesity, heart disease, cancer and a host of other problems for kids later in life. 
Luckily, stevia is a great alternative to sugar. Stevia is a plant that can produce a fine powder that is 350 times the sweetness of sugar and contains none of these negative side effects. 
The best part? Stevia has a very low glycemic index – meaning your kid won't get that spike in blood sugar that can cause them to act wild then crash. 
Is stevia safe for kids? 
The short answer: absolutely – if you choose the right product!
Stevia can actually be a better-for-you choice for your kids, especially if you're using it instead of processed sugar. It matters, however, which stevia brand you choose. Not all stevia is created equal! 
Stevia is a highly sustainable plant that is part of the sunflower family. It's native to South America, but there are more than 250 species of stevia worldwide. Pyure Organic is the No. 1 organic stevia brand in the country, and it's easy to see why. We focus relentlessly on quality, using a single-source, high-quality species and only taking the very sweetest part of the Stevia leaf. We avoid chemicals, additives and any artificial processes that would make Stevia something you'd want to avoid – we're certified organic and non-GMO project verified. 
Pyure Organic's mission from Day 1 has been to make stevia taste great. That's good news for parents; kids won't even know the difference when you swap stevia into their favorite after-school treats.
How to swap Stevia into your recipes
Swapping sugar for stevia in your kids' treats depends partly on the recipe, and partly on the Pyure product that you're using. Pyure products are a great substitute for table-top sweeteners, liquids, extracts and bulk stevia blends. Substitute Pyure Organic Sweeteners for all or part of the sugar your recipes call for using the easy conversion chart below: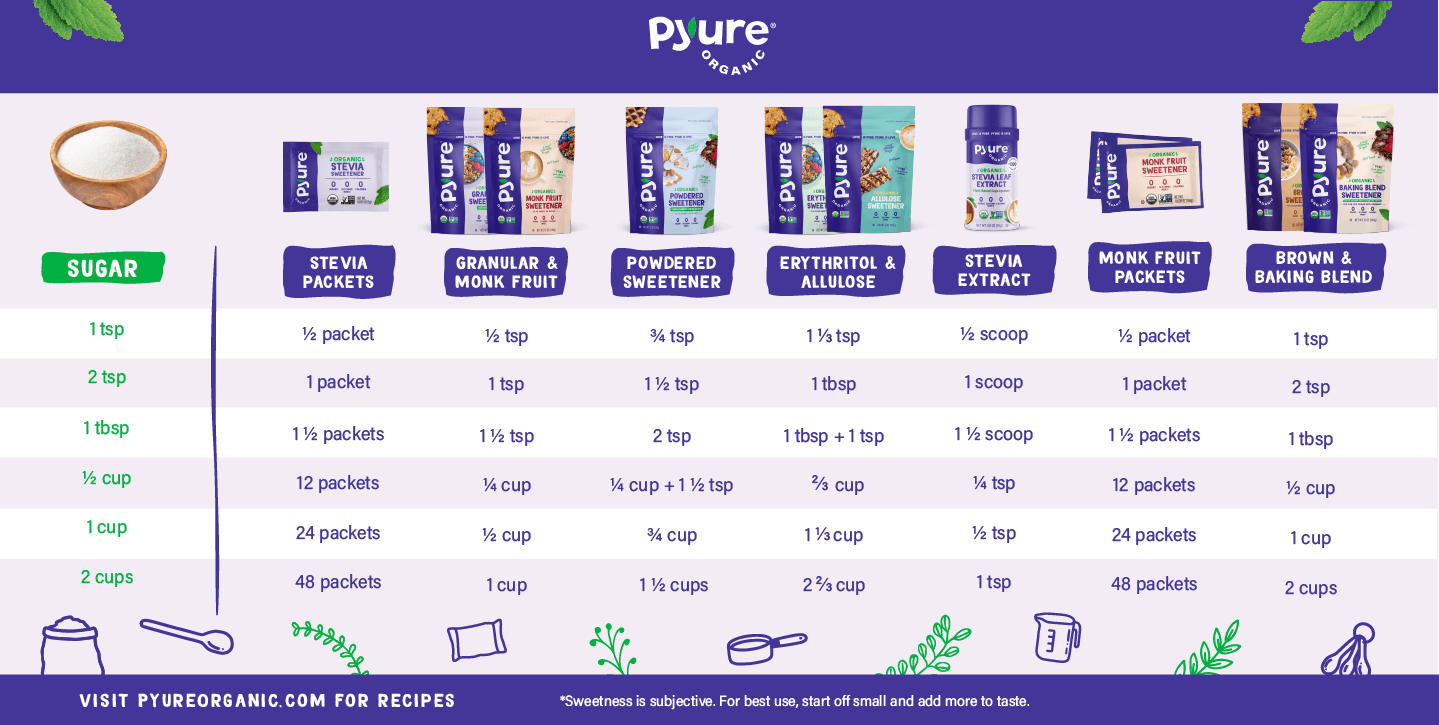 For baking pros, note that in some instances you may need to adjust your recipe to account for the loss of mass associated with the reduction of sugar.
Great ideas for kid's treats
Every kid has a sweet tooth! Here are some recipes for tasty treats you can make using stevia. 
Peanut Butter Chocolate Chip Cookies
This recipe is keto-friendly and only takes about 15 minutes to put together! Check out Pyure Organic's tasty peanut butter chocolate chip cookies here. 
Tropical Splash Popsicles
Summer isn't over yet! Give your kids one of these refreshing snacks at the end of a long hot day paying attention – and hopefully learning a thing or two. Check out this fruit-filled recipe here. 
Pumpkin Spice Bars
Perfect for autumn, these bars are guilt-free, with none of the processed, artificial flavoring found in many coffee chains' pumpkin spiced lattes. Plus: frosting! Get the recipe here.
Vanilla Cupcakes with Vanilla Whipped Cream
If kids are allowed to bring birthday treats to school, these cupcakes are a great option! They're sugar-free, using Pyure Organic All Purpose Stevia Blend and Pyure Organic Liquid Stevia, but the class will never know it. Get the recipe here. 
Spiced "Sugar" Cookies
These cookies make great holiday – and every day – treats, with nutmeg, cinnamon, and allspice in addition to Pyure Organic All-Purpose Stevia Blend. Check out the video for how to make spiced "sugar" cookies here. 
We've got tons of recipes that use stevia in place of processed sugar. Read more and explore our products – we've even got brownie mix and chocolate chip cookie mix for those days when you're not feeling super inspired to test out a new recipe.