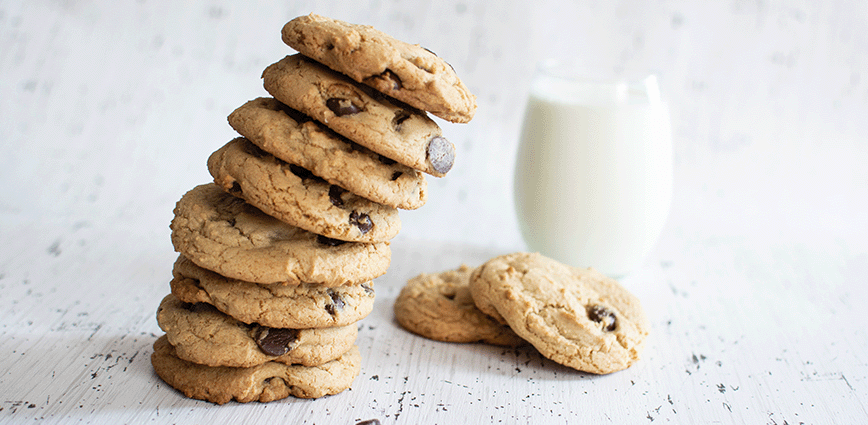 6 Low Sugar Cookie Recipes
Try some of our favorite low sugar cookie recipes — keto cream cheese cookies, sugar-free oatmeal cookies, and chocolate chip cookies made with stevia. Yum!
What's better than milk and cookies? Nothing — unless your cookies are made with better-for-you ingredients like Pyure Organic stevia. Low sugar cookie recipes often get a bad reputation for leading to crumbly, flat cookies. But, by using a healthier sugar alternative like stevia, you can avoid the winter blues and bake cookies for diabetics, keto followers, and other friends and family members who are trying to eat more consciously.
These low sugar cookie recipes incorporate ingredients like almond flour, stevia, and oat substitutes to let you snack guilt-free. Looking for a shortcut? Try the Organic Chocolate Chip Cookie Mix by Pyure. It's gluten-free, high in fiber, and easy to make! 
Keto Cream Cheese Cookies
These keto cream cheese cookies come together in just a few steps. Adapted from Wholesome Yum, this recipe for almond flour stevia cookies satisfies your sweet tooth craving for soft, chewy cookies. 
[Can't get enough cream cheese? Try these with our recipe for Cream Cheese Cookie Icing]. 
Ingredients
Instructions
Preheat the oven to 350 degrees F. Line a large cookie sheet with parchment paper.

Use a hand mixer or stand mixer to beat together the butter, cream cheese, and sweetener, until it's fluffy and light in color.

Beat in the vanilla extract, salt and egg. Beat in sour cream, if using (optional).

Beat in the almond flour, 1/2 cup (64 g) at a time. (The dough will be dense and a little crumbly, but should stick when pressed together.)

Use a medium cookie scoop (about 1 1/2 tbsp, 22 mL volume) to scoop balls of the dough onto the prepared cookie sheet. Flatten with your palm.

Bake for about 15 minutes, until the edges are lightly golden. Allow to cool completely in the pan before handling (cookies will harden as they cool).
Peanut Butter Cookie Recipe
Everyone has a go-to peanut butter cookie recipe. When you add chocolate chips into the mix, you get the best of both worlds: salty peanut butter and gooey sweet chocolate. It can be challenging to find a keto-friendly recipe for peanut butter chocolate chip cookies. This recipe is the answer you've been looking for, and the best part about it is they take just 15 minutes to make. That means that whenever you get a craving you can whip up a batch in no time.
It's important that you do not substitute any ingredients in this peanut butter chocolate chip cookie recipe. Different ingredients have different absorption rates and may affect the texture and consistency of the final cookie.
[Not a fan of chocolate? Try our classic Peanut Butter Cookie recipe with stevia!]
Ingredients
Instructions
Preheat oven to 325 degrees, place parchment paper on a cookie sheet and coat with cooking spray. Set cookie sheet aside.

Combine all liquid ingredients: peanut butter, melted coconut oil, egg, and pure vanilla extract. Mix well.

Add all dry ingredients to the wet mixture: almond flour, Pyure Organic Erythritol, baking soda, baking powder, and salt. Mix until a soft dough forms.

Add chocolate chips and mix until evenly distributed.

Create 12 even scoops of dough and place one inch apart on the cookie sheet.

Bake for 8 to 10 minutes until the edges are golden brown. The cookies will have a cake-like consistency.

Allow cookies to cool on the sheet for several minutes before transferring to a wire rack. Don't try to remove them from the baking sheet too soon or they will crumble.
Spiced "Sugar" Cookies
A Pyure original recipe, this low-sugar cookie recipe is packed with warm spices to level up the flavor of basic cookie dough, making these cookies perfect for the holidays. Decorate with cream cheese frosting (see above) or add nuts or chocolate into the mix for a twist. 
Ingredients
Instructions
Beat butter with

Pyure Organic All-Purpose Stevia Blend

until light and fluffy.

Beat in egg until well blended. Beat in vanilla.

Whisk flour, cinnamon, baking powder, nutmeg, allspice and salt together.

Stir into butter mixture in two additions.

Wrap dough in plastic wrap and refrigerate for 30 minutes.

Roll on lightly floured surface or between sheets of waxed paper to 1/4-inch thick.

Using desired cookie cutter, cut out shapes.

Preheat oven to 350°F. Place cookies 2-inches apart on a parchment paper-lined baking sheets. Bake for 10 to 12 minutes or until golden. Let cool on racks.
Tip: To soften cold butter, cut the sticks lengthwise into slices and arrange them in a single layer on a plate. Leave at room temperature for 15 minutes.
No-Sugar
Chocolate Chip Cookie Recipe
These almond flour stevia cookies adapted from Chocolate Covered Katie are a diabetic-friendly way to satisfy your chocolate chip cookie craving without going overboard! Kid-friendly and easy to make, this chocolate chip cookie recipe is a big hit. 
Ingredients
Instructions
Preheat oven to 325 F. 

Stir dry ingredients very well 

Add wet ingredients to form a dough. 

Shape into cookies using a spoon to form balls and then shape into cookies. 

Place on a cookie tray and bake on the center rack 10-12 minutes. 

Let cool an additional 10 minutes before handling
Chocolate Cookies Recipe
with Stevia
Chocolate lovers will love this take on decadent, gooey chocolate cookies that use nut butter and liquid stevia instead of processed sugar. Dark chocolate chips make this chocolate cookies recipe from Healthy Recipes feel even more luxurious. 
Ingredients
Instructions
Preheat oven to 350 degrees F. Line two cookie sheets with parchment paper.

In a medium mixing bowl, whisk the nut butter with the eggs until smooth. When mixture becomes sticky and difficult to mix, start adding water gradually, a tablespoon at a time, until you reach a smooth consistency. You will likely need to add ¼ cup water.

Whisk in the stevia and, if using, salt.

Using a rubber spatula, mix in the cocoa powder. Just as in step 2, you want a smooth, easy-to-mix batter, so add water until you reach that consistency. How much water you will need to add depends on the consistency of the nut butter you use. I usually end up using a total of ½ measuring cup of water in this recipe. So I add about ¼ cup in step 2, and ¼ cup in this step.

Mix in the baking soda.

Using a cookie scoop, or a 2-tablespoons measuring scoop, spoon 18 mounds of the batter onto the prepared baking sheets, spacing the cookies 1.5 inches apart (they expand as they bake). Do not flatten the mounds.

Top each cookie with 5-6 chocolate chips, gently pressing them in.

Place the cookie sheets on the middle and bottom oven racks. Bake the cookies for 8 minutes. The cookies will be very soft at this point, but they will set as they cool. Don't try to remove them right away.

Cool the cookies 10 minutes in the pan, on a cooling rack, then use a cake server to carefully transfer the cookies directly to the cooling rack to cool completely. Do let the cookies cool completely — about 20 more minutes — before serving them, or they will still be the wrong consistency — too soft.
Sugar-free Keto "Oatmeal" Cookies
First, oatmeal is not an approved ingredient for anyone following the keto diet. There are plenty of substitutions out there, but this recipe, adapted from the Sugar Free Londoner, uses wholesome ingredients like almonds and coconut flakes to replace the texture of traditional oatmeal. Plus, they taste the same — or better! — than regular oatmeal cookies. 
Ingredients 
Instructions
Preheat the oven to 350F / 180C / 160 fan and line a baking tray with greaseproof paper.

Using a sharp knife, chop 1/2 cup / 50g sliced almonds and the coconut flakes to resemble the size of oats. Option to use a food processor and pulse if you prefer.

Mix all the dry ingredients together in a mixing bowl (almond flour, stevia, baking powder, salt, chopped flaked almonds and coconut). Stir to combine.

Add the melted butter and egg and mix to form a dough.

Roll the mix into 9 balls.

Chop the remaining 1/4 cup of almonds.

Place the balls on a baking tray and press crushed almonds into the top.

Flatten the cookies and shape the edges with your figures to remove cracks. Bake for 12-15 minutes until slightly golden.
What are your favorite keto-friendly, gluten-free, or diabetic-friendly cookie recipes? Share your creations with us on Instagram by tagging @PyureOrganic!